As promised, I'm back to Bloggin' :)
Daddy & Mummy left for Batam to attend a friend's Wedding.
My passport never go update.So cannot go.Sad-ed :(
But it also means

Freedom

for me for 2 Whole Days.
They will be back tomorrow afternoon. I might decide not to sleep and stay online the whole Nite. LOL :)
I will briefly blog about yesterday...
Yesterday was the last day to my 3 weeks holiday! Whoots.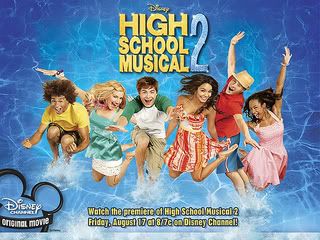 I watched High School Musical 2 in class.
It's quite nice to watch, with all the songs and dance.
The DVD is avaliable now, but u could PM me cos i've it in my laptop. shhh...
~Na nah na nah,~Yeh, u're the music in me...




Tried my hands on PhotoShopping 2 of myself.

*Failure* :(

Bought a New Pair Of Slippers.
Was scheduled to Work at 4.30pm, but guess what time i reach my workplace?
As mentioned earlier, Parents wen to Batam. And i am not working during the weekends.
So coincidental. Basically On-ed my Laptop the whole day.
Watched the Whole Series of Death Note 1 and 2.
*

L

eats a whole lot of junk. Just like me*
Oh ya, My blog view increased for these two days.
Holidays means lesser things to blog about le...Cos nothing about school stuff.
So i must find things to blog le...
I already thought of some le...
In these 3 weeks, there will comfirm be a post on:
(19th of December. Coming soon)
Christmas Celebration
(What did i do during christmas)


My house.
(which i wanted to post last holiday and forgot.)