[Warning: SUPER LONG POST]
Post Christmas Celebration!
Wen out with Rinn, HuiXin, and Manda.
Peggy got Work, Xiao di got Chicken Pox :(
When to Orchard...Far East...
The story is about a music group of chipmunks comprised of mischievous group leader Alvin, the tall and quiet Simon and chubby,impressionable Theodore.The three chipmunk brothers are adopted by a songwriter named Dave. They are so Freakin' Cute!!!
Alvin & the Chipmunks is the "Viewer's Choice"
Therefore i'm giving it....*DrumRoll*


5 Popcorns - Must watch for this Christmas!


I must carry these two plastic Bag wherever i go :(


Wisma Atrium: Walk and Walk until Tired.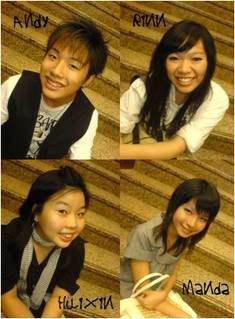 Self Portait while waiting for the train...
Back to Pasir Ris - Sushi store :)
*3 more Days to Christmas*