Before you go on reading my Blog,
I would Appreciate if you would click the icon below: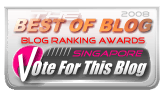 Put 10
★★★★★★★★★★
if u like my blog :)
*Currently Rank #16 for Best Youth Blog*
P.S: RP students, Our Network doesn't allow us to go to the Website :(
Tonight help me vote can?
Finished My PowerPoint Slides. Time for Bloggin'
This Picture is Rotting in My Com. Time to Reveal it.
I & ___ (forgot who.Serious STM) was on the way home on Bus 168.I was feeling hot so i reached to adjust the Air con, den i saw this =.='''
Of all the places?! I admit that i "sometimes" litter on the bus. I would stuff things down the seat gap. Sweet Wrappers, tissues...
But in the Air con?!
Took this PHoto Yesterday. Wore Specs =.='''

*1More day,W810i*