My Laptop died because the DC Jack is spoilt.
So went to
ACER
with Nurul and Saira to fix the problem.
2 Days of "Battery-less", of course, I must thank
Nurul, Yah see and Euodia
for helping me pass by these 2 days, thanks a lot!
Went off class eaRly to go ACER, sat 187 to Jurong East.
1 Hours trip. Nurul and I were Singing in the Bus and Crapping.
We sang mostly high school Musical songs and some random.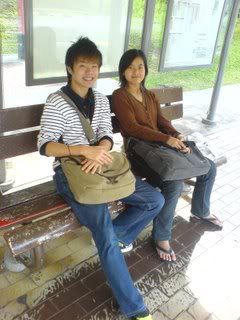 The Random is really Random, like:
~The wheels of the bus is round and round,
~Round and Round,
~The wheels of the bus is round and round,
~Round Round Round =)


Reached ACER @ about 5pm.
The Violent Person Ripped my laptop apart.
Everything from the Keyboard to the Hard disk, leaving...
I Dunno what is this remainder call...
I was asked to Pay 32 Bucks lor!!!
It's not covered under warranty, the person say is "User's Fault" So it's my fault la?! Stupid. I paid reluctantly. I handed to Cashier my Card. They asked "Master oR Nets?" I asked Master. After like 3 tries, Sorry, it seems that it cannot be approved. I was like, WTH. Ok, use Nets. Den the thing cannot detect. I was irritated le, it's not my card's fault lor, i used Saira's card, also cannot work, den they say
"Can you kindly go over to that ATM machine across the road and withdraw cash?"
I was like...No. I wanted to get over and done with. I borrowed 12 bucks from Saira and paid the guy rudely.
The Next thing i did was to On my laptop and submit a Complaint letter.
Everything was done at 7pm.
See the difference from the first photo and this photo?
The first photo the sky is still bright, but when we left ACER, It was Dark. Took 197 to Bugis and took MRT home with Nurul, singing and Crapping on the MRT again. Reached home @ 10pm.
Had dinner, bath and blogged.
Last photo before leaving ACER.
*Looking forward to ACER's reply about my complaint*