Once again,



HAPPY NEW YEAR!!!
IT'S YEAR 2008, Who0ts.
Anyone went for the Countdown Yesterday?
I countdown-ed with a few thousand people yesterday!
It was not hot, i was not perspiring.
I even got close enough to see the celebrities on the stage @ VivoCity.
Green with Envy?
I was right in front of the TV at 11pm :)
Everytime went it's festive Season, SMSes get Jammed...
New Year Resolution for Year 2008?
#1 : Get a PSP slim (My mum promised to pay half for me le :)
#2: GPA for Year Two - 3.5pt
#3: Take the plane! I never take before...
#4: Become the Next Top Blogger!
#5: Still thinking...
Oh ya, to Achieve my #4 Resolution, i nid YOUR help.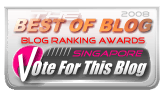 "Every Beginning has an Ending, Every ending also has a beginning..."
So start by Voting for ME :)
Another Featured Article by me :)
Last but not least...
P.S: i dun get this "Last but not least thingy"...Isn't it last already?