Yes, I am Back to Bloggin'
Before anything, thanks for voting for my blog :)
Although it's quite hard to get into the
Top 3 position
now...
but nevertheless, continue to vote, cos i might have a chance and it depends on you all to help me win :)
No, not condom, not sweet, Not makeup...it's inedible...
Most of us own a Card Reader - Just look at mine...
Recently, my friend lend-ed me hers...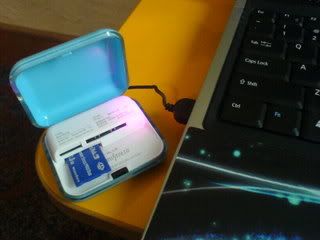 When she handed it to me, you could never guess it was a card reader...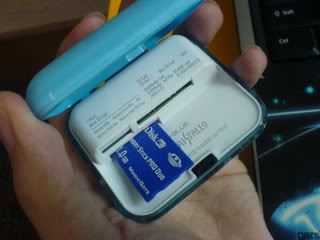 Until you open it. This is what i call -
Style.

It is also Super Ultra Portable. No Messy cables for people like me.
Like it? I also dunno where to buy.
Be prepared to fork out at least 20+ Bucks for something like this.
The ugly one cost only $9.95.
School starting tomorrow, must take 168 all the way to woodlands...
No PSP to pei me cos haven't buy...
Lastly, i'll end my post with...
VOTE FOR ME!!!