Who0ts!After 2 days of miserable days without my laptop,
I finally got my laptop back!!!

*Hugs and Kisses*

to my lappy!
My poor Laptop was locked up last friday by the IT helpdesk, partly it was my fault cos i was Engrossed in playing Xbox with Nurul at the Library. Then by the time we wanted to collect ouR laptop, the IT helpdesk was closed.
Wanted to blog this during the Weekend,
Last friday, Yah see, Nurul & i was bored during 2nd break,
So guess where we went?


The three of us went to the

Park @ RP

! It was Super Hot that day, we got nothing to do in class, so we went to checkout the newly built park beside RP.


Climb-ed up the Hill just to take this shot.


The fitness Corner was filled with Fine sand!!! Nowadays Fitness Corner's floor are those "Sponge" type de, So that when people fall down, it isn't that PAIN.
But You will have to Much fun with Sand!!!


We were writing our Names on the Sand, then Nurul decide to Checkout the other things.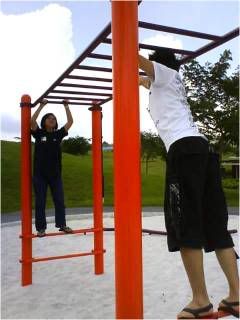 On the Monkey Bar. "Nurul, let me go first leh..."
That day was Super Hot. Everyone was Sweating, No, Sweating is for Pigs, I mean everyone was Perspiring. *Wipe Sweat*
I receive like 2 Negative Comment over the weekend.
#1: Anon: LAME. You look er xin
My Reply:

You started your comment by saying-LAME. Are u calling yourself lame? cos u did not mention what is lame, izzit me? oR my post? so i take it u are calling Yourself. I look Er xin? I wonder how u look like...
#2:Maddie: No offence but I think your blog isn't really nice to read. UH, I mean... I was expecting it to be as good as typical ben yeah. Weellllll. JiaYou~
My Reply:

It may not be nice to you but it may nice to others, everyone's opinions differ. I will jia you de, thanks.
Alright, shall end my post here. 4 more days till Year 1 ends =(