On Sunday, Mummy suggested going to Catch Stephen Chow's latest Movie - CJ7. So i booked the Tickets online before heading Down to Bugis Shaw Theatre.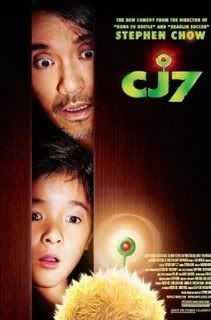 "CJ7" is a comedy about a poor labourer (Stephen Chow) and his young son in mainland China. When a fascinating and strange new pet enters their lives, they learn a lesson about the true nature of family and the things that money can't buy.
At some parts of the movie, it will remind you of stephen's previous movie such as Kung fu and Shaolin Soccer. There are some parts that are freakin' hilarious (Spoiler: Especially that part when Dicky(his son) trying to refrain from screaming) everyone in the Cinema was Laughing out loud!
Of course, the MAIN LEAD is the CJ7. This 4 legged cute creature. It's so freakin' cute. You can't help liking it."Anyone who dislike it slap yourself, pls" However, the part when stephen dies, was SAD. My sis was Sobbin' beside me. However the day is saved by CJ7 which eventually leads to...OMg, i think i said too much.
I rate the Movie....*DrumRoll*