Yup, just as the title suggest, i am bloggin' about my trip to the Newly opened Kallang Leisure Park, where Singapore's 2nd Iceskating Rink is Situated! Who0ts =)



How to get there?


#1:Stop @ Kallang MRT station.Exit on the Right side.
#2:Cross the Street to Kallang Bus Terminal.
#3:Wait Ages for Bus #11.
#4:Alight when u see the stadium.


Clara
and i was the first to get there.(P.S: you can click on her link to view her blog) So we decided to have lunch first.So...

First Stop:


We decided go Japanese for ouR lunch =) And we saw this Bento Deal which was really cheap.It's located at the 5th Floor.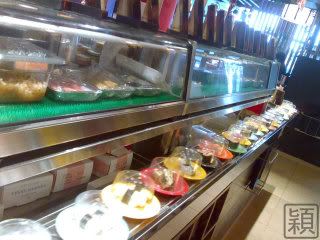 Everything is Self Service there, not like Sakae Sushi, we have to walk to the belt and get ouR sushi and also to order ouR food.
Got Rice,Meat,Chawanmushi, Fruits and Salad. And it just cost $3.99?! *Lunch offer*
In just 15mins time...
Finished. *Slurps*
Melissa Arrived, but we still have Wait for Lewis before we accomplish the objective why we came to Kallang Leisure park.It's time to digest ouR food.
I was trying to beat the high score...but...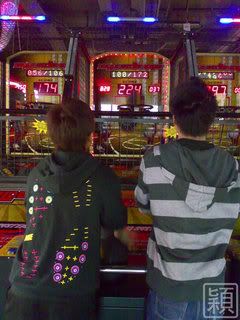 So Melissa and i joined Forces to beat the Evil Machine!!! Wahaha, anywae we still lost.Our Score was like 399. Which is considered good. *Gives myself a pat on the back* =)
Lewis finally arrived!!! Bought tickets for 4 to enter the Iceskating Rink. Each person cost $18.50
(Admission for 2 hours + Fugly Gloves)
The fantastic 4. Wahaha.
Candid shots.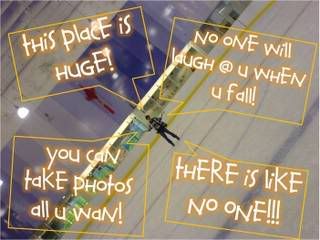 The Rink is about the same size as the one in Jurong Entertainment Center. But the crowd is definitely lesser. I am the only one in the photo above. So u can estimate how many people are there in the Rink?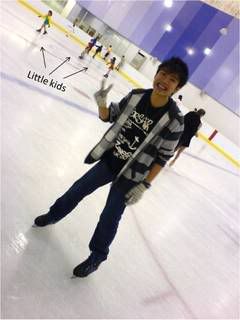 Those little kids behind are like PRO.Our leg was so "Sour" after 2 whole hours. Everyone was Super Hungry. We had Dinner at the nearby Foodcourt.
Now i want you all to scroll all the way up to the first photo.
See already? Don't bluff, Scroll up!
See the difference? From the sun rise to the sun set. Waited for Ages for Bus #11 again, took the MRT back home. *Yawn*