Oh ya, by now u all should know that i won the Viwawa blogging competition! Who0ts. So happy! Gonna blog about it when i go collect the Ipod Shuffle. There will be photo taking as well! CoOl! *Excited*

I sprained my Hand yesterday during work, today cannot work cos it's pain =(

Alright, i am bloggin' about My

Chinese New Year

! Which everyone has blogged about theirs. I am so SLOW.

Chinese New year eve.

Went to Chinatown to experience the CNY atmosphere.

There is a lot of people there. It's

"human mountain human sea"

!

(in chinese) "ren shan ren hai" =)


All the New Year Decorations on Sale...


Saw this sign at one of the stall. So interesting!
You know there are a lot of these Sweets stall in ChinaTown? It's like one big bag for only 3 Bucks. Decided to squeeze with everyone to grab the sweets! Trying to stuff as many sweets as possible into the bag.

Chinese New Year Day 1

Of course this day is where u go Visiting and collect Ang pows!!!
Forgot to take photos with my Cousins =(


Gambling is like a MUST during chinese New year. Good way to earn an extra buck (provided your luck is good...) I only won 6 Bucks lor... My auntie got 2 Aces! So freakin' lucky! She betted 4 bucks, and she got back

16 Bucks

!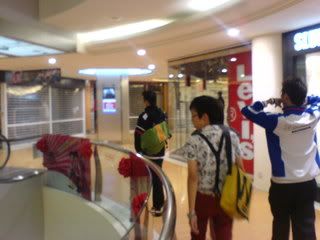 Had Dinner @ MOS burger @ Bugis...It's the first time Bugis is so Empty, because all shops are closed =.=
Went Ah liang mdm's house to bai nian. Every year all the Saint john people will gather at her house for lunch and to gamble! (Of course to collect Ang Pow)
My luck isn't that good this year, cos i never had a "BlackJack" =( but i won an Ipod Shuffle, Who0ts. (Consoling myself...)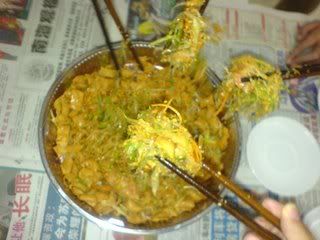 While "Mixing" all the ingredients we must say those "Good" words, like "Grow taller!!! Win 4D!!! Win more $$$!!! GPA get 3 and above!!! of course i won't forgot to say - "More readers for my blog and may all my readers have good luck throughout the year!!!" LOL
I still remember last few years we eat Yu sheng at my auntie's bunglow, den everyone(about 10+) will mix the Yu sheng, den everyone will fling the yu sheng up high and it will land on someone's head and stuck in the hair! Once it even drop into the cleavage of my aunt's! LOL =)