After the movie...
We walked around Cineleisure, Rinn ate her PastaMania. Den suddenly i got the "feel" to eat

Secret Recipe

. So we walked all the way from Orchard to Plaza Sing. (Actually it's not that far...)
The photo i took from the menu isn't that nice so i edit it abit and added the line on top. Secret Recipe has Superb nice Cakes and food. Guess what i ate?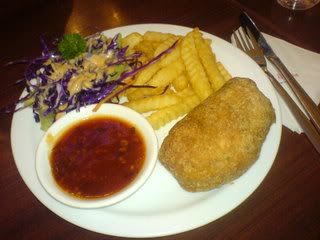 It's called the

~Chicken Cordon Bleu

. I also dunno how to pronounce. The chicken is not like the chicken chop. It's in an EGG shape. It cost $11.90. It is super Delicious. Show u wat i meant.
When u open the "Egg" up, Smoke will rise from the insides. Inside is Chicken, Ham and cheese. *Drool* Now i feel like eating it again... It comes with Fries and Garden Salad.

It's absolutely worth the price!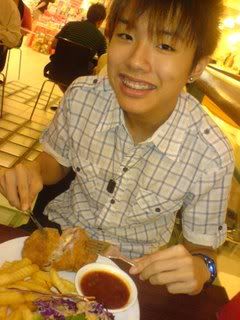 I rate it 5/5 Stars!!!