ANdyStorm presents...
How to get more traffic to your blog
There are several ways that i found out but not all are useful, Just continue reading...
#1: Join a blogger community.
Here are 2 blogger community that i am currently in.


Nuffnang. This is like the most popular blogger community so far. You get to earn money by getting advertisements, Nuffnang also has INNIT, which is a tool to help increase through submitting articles.So far, i find that Nuffnang is the best analytical tool for blog.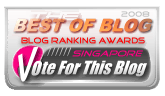 SGfriends. This is another blogger community that I'm in. SGfriends is a blogger community portal for those interested in joining a blog ranking. There are several categories to join and people/readers will vote for you. Meanwhile as your link is in the ranking, people can view your blog. One top blogger(used to be) that is from SGfriends is Ice Angel. Maybe SGfriends is one of the reason why she is famous? I get quite a no. of people coming from SGfriends everyday...


a



#2: Join a "traffic-inducing engine"
For example:
This type of "engine" helps to generate more people to go to your blog. I have tried it personally to see how well it works. It does generate a few people BUT first, ask yourself this question, "What do you blog for? to generate traffic or it's your interest to blog?" Cos in this type of "traffic inducing engine",very few user are genuine readers, Users normally just leave your page in tabs and do their own stuff,earning credits for themselves, which the credits is converted to "readers"...


a



#3:Ping your post
Ping.sg
is a Community Meta Blog for Singapore Bloggers. Everything you do a post, you ping it through this website. Ping-ers which is on the Webpage will read the first paragraph of your post, if they are interested, they will click the link, which leads to your blog.So it depends on YOUR content. So it's up to your "blogging Skills whether you get traffic or not.
#4: Exchange Readers.
I thought of this myself.Readers that comment you, den u reply den you add them on MSN, u link them, and become friends. This people are your blogger friends, they too blog, they too get a certain amount of readers. What if everyone share readers? How does this work? You create a post which directs your readers to your blogger friend, they do the same for you. So u share your readers, HOWEVER, it depends on how interesting your blog is to make "their" readers stay to your blog. Understand? So anyone wants to exchange readers?