I
waited for so long...The photos have turned Dusty in my laptop.
Finally, they officially announced...
I won the Viwawa Blogging Competition!!!
I knew the results like quite long ago, i went to collect my prize like 1 month ago, and i wanted to wait for their "official" result before i blog about it...It was like...Finally...

Well, i would like to thank Nurul for accompanying me to Chai Chee to collect my prize and for being

Photographer for the day.



I had to sign this

declaration form

to prove that i am that ANdyStorm on Viwawa...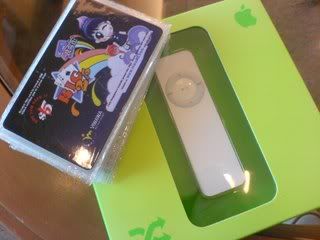 My prize:

A stack of Viwawa Card and an Ipod Shuffle!




Photo-taking by their staff

...I did not really like how the photo turn out, so i asked my photographer, which is Nurul to take a photo of me with my prize.


The final Photo which i email-ed Viwawa and asked them to used this instead...Yup, they used it!


a



And of course,

to thank Nurul for accompanying me to collect my prize and also to be my photographer, i gave her 6 of those Viwawa Cards,a total of

3000

Cash Value in Viwawa, it's worth like 25Bucks in Real life!!! She can now decorate her wawa to be the Chio-est Wawa in the game!

Alright, i have got

10

of this Viwawa Cards

to give out to my Readers. Each card is Worth

500

Cash value in the Game. All you need to do is comment on my blog using Haloscan (below), Ending your comment with this Code - [Happy Viwawa-ing!] Alright, it's kind of lame but just do it for the sake of that

500

CASH pts!

(P.S: Remember to leave your E-mail as i will be email-ing you the pin to top up your Cash!)