Alright,finally i am going to update about this outing...
Which was like

AGES

ago...
BUT before that, i shall share with you all my horoscope readings for that day...

In case u can't read properly, it says:
Toss your organizer or scheduler in the trash-or at least in the drawer-for the time being.Today brings so many interruptions and distractions that you might not be able to get to anything you had planned.
Let me me tell you,

it's SUPER true

! That day was like........
Went to the

food fair

(which one of you saw me and tag my board) with

Keith

to meet

Manda

and her

BF

. Ate lunch there. Den we decided to go to Marina Square. We stepped in

Marina Square

, cannot decide where to go, we went to Bugis instead. Decided to go play pool, but guess where we end up?




Lasalle

.

Since we were there, Manda & her BF enjoying their BeanCurd, Keith and i decided to explore the NEW lasalle campus. The place is

super ARTISTIC

! after exploring, we went to play Pool...

For
Dinner
, we went to...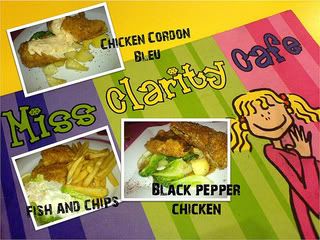 The food there is nice and affordable!

Do you know where is it? Well, we had a hard time finding it... The address is at : No.5, Purvis Road, #01-04. It's beside the National Library...We wanted to try the chocolate fondue but there was not enough chocolate =( Next time bah.


a



We then went to Bugis

...Went to the

intercontinental hotel

to "borrow" their toilet...Guess what? With Mirrors everywhere, nice deco...It's time to...