** THIS IS AN ADVERTORIAL **
I always wanted an Ipod Nano, but the price of S$348 is abit hefty to for me. I already got a walk man phone, i got an ipod shuffle, but i just want an ipod, cos the scroll wheel is like so damn cool! *Dreamin' of me scrolling and scrolling*

Reader:

Stop it! Scroll scroll, later spoil den you know!
I haven't even got a Ipod yet. -______- But i just ordered one! It's a 4GB Black Ipod Nano 3rd Generation.
Reader: Order? Order from Apple ar?
No no, i ordered it from a blogshop =) I think i should share this deal with you all!
QUEENsovereign
is a newly opened Blogshop. And now they are taking pre-orders for AUTHENTIC Ipod Nano, Ipod Touch and even the "haven't release in SG" IPhone!

They might be cheaper than the "Usual" Price out there, but they are

ABSOLUTELY Authentic and Brand new

.For the iPod,iTouch & iPhone they have 2years warranty for all of them. Money back, top-up, or product exchange within 2weeks in good as new condition.

So don't worry if anything happens...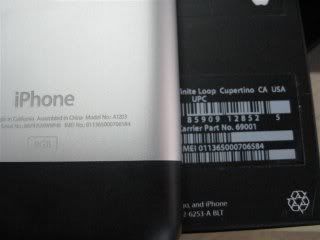 Each Ipod,Itouch,Iphone have the

INDIVIDUAL SERIAL NUMBER

to prove it is

AUTHENTIC

. So if u're interested, do drop by S
hoppingsovereign.blogspot
to check out the deals =)