Just as the title suggest,It's another typical day in RP...
With a laptop in hand. Hoodie. Today's lesson is about

Subnet Mask

, some kinda of data communication thingy. So confusing...Before i go on...Guess what this picture is about...
So "Artistic" right? This photo shows

Confusion

. The confused state of mind,which the Wires depicts the movement and flow of thoughts.The different shades of Greys represents...
Reader:

Alright, stop this nonsense and continue blogging -__-
Sorry, i was just crapping. Dunno how to describe the photo...The photo is just a typical scene of a classroom in RP.
Just

lots and lots of wires

twisted around and around...So messy right? But who cares? Everyone just left their wires "hanging",

EXCEPT

for me =)


Finally school ended.

No one's going home with me.

I wouldn't want to take the 168 home alone...~ So lonely, Mr lonely...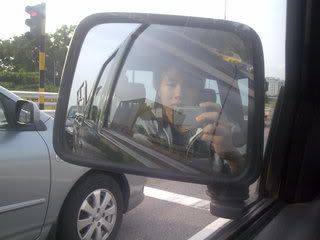 For the Past 3 days...
I called my Dad to fetch me. "Manda, Yi han, Rinn! Where have you all been?!" =(


Life @ RP have never been so bored...




*Off to write a Blogshop advertorial*