WARNING: THIS POST IS GONNA BE LONG...

Ok, it's time to blog about my

FAMILY-DAY-OUT

...Participated in the

Nuffnang

Blogging contest and Won myself 5 Tickets to...

The Singapore Zoo!!!

It has been ages since i went to the school...The last time i went was like...Sec3? So about

5

years le...So what changes are there?Before i go on to the 'plot', let me first introduce the Main characters of that day...
ANdyStorm

the official 'Video' Camera-man
Christina

, the official camera-woman of the day.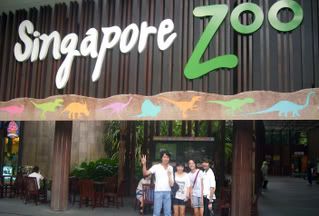 Before anything,

we decided to take family photo right in front of the zoo to prove that we have been there.

P.S:

I was the one who took this photo, so i photo-shopped myself into the photo

=)
Alright,

how could we go into the Zoo with an empty stomach? We would be walking for several hours!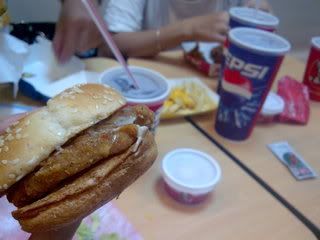 So we decided to have lunch @ KFC first =)
Alright, now we are full, let's start out journey to walk the park!
Once

we stepped into the Zoo, it started to

drizzle

... What a "Great" way to start the day, but it did bring down the temperature to a more cooling enviroment.
We took photos with the

Giant Seal Statue

, which was the latest attraction of the Zoo,

Splash!

I still remember watching those animal school everytime i visited the zoo in my primary school days...



Alright,

it's 2.30pm, Time for the show.
The sealions are so cute!!!

The way they did all their tricks are so entertaining! But the 'storyline' of show was predictable. Like kissing kids, shaking hand, catching frisbee, splashing water...
TALKING ABOUT SPLASHING WATER...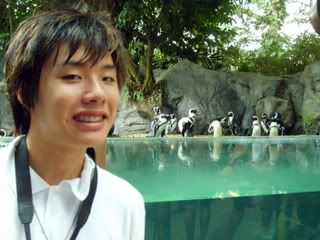 This shot was right taken after the show. Don't ask me why my hair is also messy, where is my bangs...

Ask the sealion

...The penguins behind is freakin' cute!
Some shots with the giraffe...
As you know, my sis was the 'photographer' of the day, she was basically snapping non-stop, taking ALMOST everything, from animals, humans to dunno what...
Even when walking right in front of us...



Alright

, i think this post is getting abit too long... Let me end it off with another family shot...
---
Reader:

Oi! You go to the zoo never take photos of the animals ar? Only take photos of people...
---
Oh yes, i forgot... I guess it would be pretty bored if i just paste paste paste the photos of the animals i took...So...

Dammit, i can't paste the slide show here...
You can click HERE to view it.

Thanks Nuffnang for the Tickets!