[ I actually blogged this post

last night
.When u see this post, i am actually working and I am working from 12 noon to 10.30pm today. This post is Scheduled by me to be published at

4PM

.]


After so many people asking for Ah shui, Ah shui. I
finally published my 'Superhero' Post,

hopefully can win something

.

Talking about winning something. I actually won another blog contest, which is my School's

[Weblog @ RP - Holiday Blogging contest]

They did not state what was the prize. I went to collect it today at the One Stop Center.

*Counter Staff hands me an envelope after i fill in my particulars*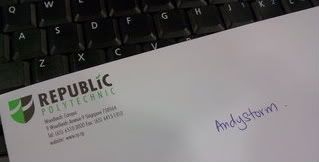 So i was thinking,

"It must be some kinda voucher..."

What can you expect in an envelope other than paper? It's not bulky...
I was right =)

2 gift voucher for any show @ Cathay Cinema. I should have collected it yesterday, cos i watched IRON MAN -___-

Now my mum got nothing to say about Blogging is useless. I have won an Ipod shuffle through blogging, Now it's a pair of Movie tickets =)

What's next?