Almost everyone watched IRON MAN already, this review is kinda late, but all those 'Mountain Tortoise" that have not watch, let me tell you how Awesome it is.

Bought 4 tickets but only 3 turned up. Lucky the manager there was kind enough to change the ticket to other show -

5 Star

for Causeway pt, Cathy =)

Plot:
Billionaire industrialist

Tony Stark

(Robert Downey Jr) makes weapons for the U.S. government. While testing of one of his inventions, he is wounded, captured and forced to make weapons for the enemy. Instead, he fashions himself a crude power armour to save his life and facilitate his escape. When he returns home, he revises his armour and finds purpose as the Armoured Avenger,

Iron Man

!
Working on his

IRON MAN

suit. You should have seen his first version of iron man, it's Fugly. Nope, i won't show u the photo, find it yourself. The final design is so much cooler and nicer.

Using his state-of-the-art equipments, the process of creating the IRON MAN suit is definitely a MUST-WATCH!
One of the fighting scene.

The ending fighting scene is also one of the MUST-WATCH. But it's abit lame.Fly higher & higher, then...Enough! Go watch the movie then u will know the ending.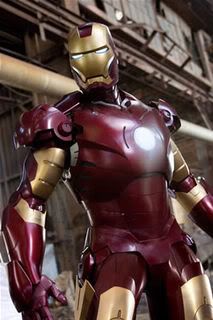 Overall, if u are a FAN of those Marvel Comics Movie, this movie is a

MUST-WATCH

, being a FAN, therefore I rate this movie:
4 Popcorns - What are u waiting for?