SINGAPORE Superhero Blog-tastic Contest
The Origin of the Filtrate: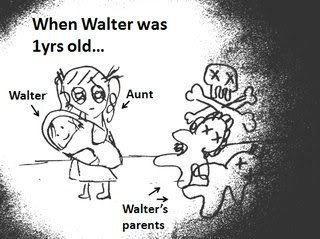 Walter

is an orphan raised up his aunt Mary. His parents were poisoned by the evil

Bacterium

, Walter's aunt kept the truth from Walter and decide to tell him when he is old enough. Aunt Mary gave Walter his name –

Walter lee ah shui

, which has a hidden meaning. Walter means water and

shui

means water in Chinese. To remind Walter, the cause of his parent's death.

Walter

was indeed talented, and fit. At the age of

4

; he could swim like a fish. In his primary, and secondary school's swimming competition, he always came in first. He never fell ill.
Aunt Mary always reminds Walter to boil the water before drinking as heat would destroy all bacteria in the water.
When Walter was 16, he was sitting in front of the television watching the news, then this news came up; "12 died after drinking contaminated water", Aunt Mary saw the news and decided it was time to tell Walter the truth. Walter was shocked. He wanted to be alone for the next few days.
He pondered on how he can revenge his parents. He kept looking at his pet gold fish, and wondered, "If the water in this tank is contaminated, fishy will die..., I must clean his tank now!" He used his hand to scoop the fish into another bowl, just when he put his hand into the bowl; he felt this energy flowing from his hand into the water. The bowl glowed, and then the water in the tank became clear, and clean. This is when he realised he got powers. The powers of Reverse osmosis.
He decided to put his powers into good use and revenge his parents. This is when he gave himself the code name – Filtrate. He also designed a superhero costume for himself.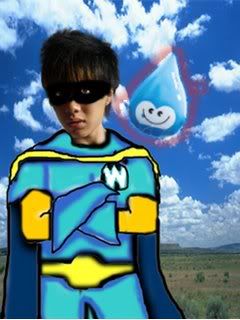 He also went to look for Water Wally, the researcher of Reverse Osmosis. Who then confirm his powers and agree to be his partner in defeating the evil Bacterium.
He hunted down Bacterium and promised to revenge his parents. He has been stopping bacterium's evil activities with the help of Water Wally.Water Wally has found out that Bacterium's next stop would be at the Singapore Movie Fiesta.
So FILTRATE HAVE TO STOP HIM!
---------------------------------------------------------------------------
SUPER HERO INFORMATION
Code-name: Filtrate
Real name: Walter lee ah shui
Real identity: Lifeguard.
Powers: Reverse Osmosis. Ability to filter contaminated water into clean high grade water that is safe for drinking. Also has the ability to heal as he is able to filter disease-causing bacteria from any water bodies and also able to swim as fast as a jet.
Costume: Pale blue costume; letter M at the chest, Cape at the back. Partner floating on the left shoulder.
HQ: Underground base, 20 Koh Sek Lim Road, NeWater visitor centre.
Enemy(s): Bacterium. Bacterium is always creating new viruses and bacteria to contaminate Singapore's water, putting people's health at risk.
Side-kick: Microbes