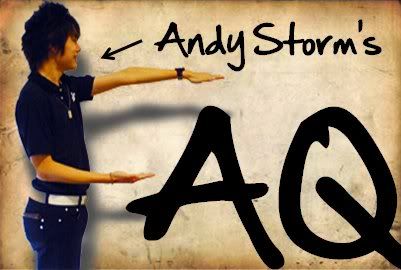 I am now 18, going 19 with a blog Named "
ANdyStorm.Afresh✖ Are You Reading it?
" Don't say i copy Xiaxue (Everyone's reading it!) cos her's is Everyone, mine is not. Maybe in the future?
Once again, i am 18, with hundreds of readers on this blog everyday.
I am a blogger, not full time nor part time, and i don't earn from my blog (except for Nuffnang) If u are a advertiser, you can look for me. If you are just a reader, continue reading.
What else is there? Just continue reading!
Q: So who the hell are you?
A:Well, i am ANdyStorm. My real name is actually just ANdy.(yup! that's me in the photo)

Q: Why ANdyStorm?
A: Well, it has something got to do with Storm from Xmen. Yes, the one below...

I am a HUGE fan of the Xmen movie series.I just feel that she's kinda of cool, with her ultra-super-powers...(perhaps
Halle berry
plays a little part in my nick cos she just presented the role so well) So i just nicked myself ANdyStorm. Guess i'm stuck with it for the rest of my blogging life =)

Q: How old are you?
A: Well, looking at my face, what age do u think i am? Of course 16 lah! Then what? 18 ar? Yes...i am 18...

Q: So why did u start up this blog and when?
A:Well,This blog was created on July 2007. I created this blog because i needed a space where i can rant all i want. Before this, my blog URL was actually whatyoumeanbythat.blogspot.com.

Q: Then why did you change it to the current URL?
A:In S'pore, there is no freedom of speech in the blogosphere, there are things that you can't write as it may affect others.Something happened,so i decided to start anew, and come up with this blog.

Q: Why the URL?
A: Well, i kinda regret choosing such a long URL in the first place! Guess it's too late to change by now...I should have just used andystorm.blogspot.com! Anywae, i booked andystorm.blogspot already. Just in case, another andystorm pops out =)
Q: Okay, enough about your blog, let's talk about you, how did u get famous?
A: Well, a lot of people has been asking me that! My typical answer would be, i won't even consider myself famous. I am just a normal guy blogger who blogs just like you all. But somehow, SGfriends did help me a little... Guess i got a little bit more exposure bah.

But I don't deny that i like the attention. People recognizing me on the streets, or during events. Like "Hey! Isn't that ANdyStorm?"
I always blog hop, and i feel that there are some blogs which are actually good, but they don't have the exposure. Like no one to help them showcase their blog. For example,
Jayden
is a good,talented designer and a blogger, with Xiaxue's help, he is able to further showcase his talents on his blog.

Q:Have you ever tot that ur blog will be popular like now?
A: Nope. I hope it will be MORE popular in the future...

Q: Wow, so can you help me "showcase" my blog?
A: If your blog has the quality, why not? Perhaps, it's time to bring out a new batch of top bloggers =)
Q: Can you link me plssss....
A: Erm, sorry but i don't link people i don't know. UNLESS your blog got my attention and i am hooked onto your blog and want to show my readers your blog =)

Q: How can i get you to notice me?
A: Normally i will notice a blog when something big happens OR when a flow of traffic is coming from your blog to my blog...

Q: You are such a camwhore for a guy!
A: Is there a rule that says Guys aren't suppose to camwhore? Would u rather read a blog which is full of words and no photo?

Q: You are a short, fugly fellow!
A: Well, izzit my turn to comment on you? Pls send me your photo to im.andystorm[@]gmail.com, so that i can show my readers how tall, handsome/chio you are compared to me =) If u refuse to send me, then F**k off.

Q: Can i add u on MSN?
A: Well, if u manage to find my msn, i dun mind making more friends =)

Q:Where did u get all those time and thoughts to blog everyday?! Don't u have anything else to do???
A: Well, i'm in RP. I am facing the laptop 8 hours daily,know what i meant? Blogging is my interest.

Q: Can i post your entries/photos on my blog?
A: Erm, okay. Remember to link back =)

Q: I like your blog =)
A: Thanks, and hope u come back for more updates!

Q: Do you do blogskin?
A: Nope, i can't understand HTML at all =(

Q: Then are u going to change your blogskin?
A: If i manage to find a good blogskin or if anyone offer to make one for me =) You can contact me @ im.andystorm[@]gmail.com
Q: Do you have any goal in blogging?
A: I just got one little goal. I just wish to have thousand hits daily before i enter NS! Haha, it's quite difficult to achieve though. *Praying*

Q: Will u ever "retire" from blogging?
A: I guess so =X