FlashBack...

I was working on 5th of July, just like any saturday.Actually i never realise it was

Cosfest

that day, normally those

HUGE

event at downtown east are those oldies concerts or family day event.

Until these

cosplayers

walked past my store, i was like staring at them,

WTF!

They are so DAMN cool! Although i don't know what anime character they are cosplaying, their costume is really damn nice!

Then these 4 ninja/warrior walked into the store, I was stunned. Looking at my stunned face, they said "ya, we are eating in these", i was like "okay, table for 4?" so i led them to a BIG table, they were like saying how hot it was, so they start ripping off their "claws", wig etc.
Curiosity kills the cat, while taking their orders, i started asking them questions, "erm, is your hair real?", "Is the costume expensive?" blah blah blah...so we made friends.
Ya! That's them in the photo,i think they are the

"D-grayman"

characters. I kinda regret sitting down(they asked me to...), i should have just ask:

"Can i borrow one of your sword so that i can pose like one of you guys?", dammit, i will have to wait another year for the next cosfest =(

Btw, i sneaked out from work to look for them just to take this photo. Shh...That is the only photo i have for 5th of July...
---
Reader:

What?! That's all for the cosplay post? I've been waiting like...
ANdyStorm: Opps. No lah...There is still 6th of July...
---

6th of July, I extended my working time from

5

hours to

9

hours just to get a 1 hour break so that i can go to the cosfest!

Big Sacrifice!

I could have go home at 5 to sleep, but i chose to stay till 9...Worth it!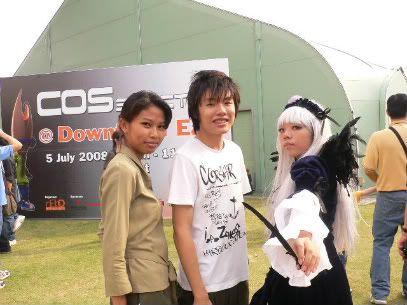 That's me, tiara and ______ in the picture!
I had to keep pester tiara to accompany me to the cosfest, well, i need a photographer...Anyway, she was excited to come along though.
That character is cool isn't it?
I think tiara is spoiling the photo...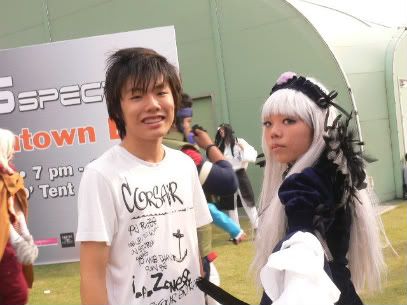 Nah!
This is SO SO SO much better...
I AM SERIOUSLY JOKING
, tiara! Pls don't kill me at work! I just wanted a shot with the character alone...
Ok, that last photo i have...
With the dunno-what-characters also...They look cool anyway, perhaps i should describe them to you? The one on my right is ____, holding the mighty Crooked staff, i think he is super hot in the custome...On my left is a Witch! beside the witch is a...erm...
forget it
! I dunno how to describe them
=(
Actually i got other photos but they are only
cosplayers
in the photo, NO me, NO tiara, only them, guess u are not interested? But if u really are...You can actually...
There are a lot of blogs/website with full coverage of the event, you may even spot the
MIGHTY gundam
,
Superhero IRONMAN
or
the blogger, ANdyStorm
in the photos!!!