Just felt like i didn't update for a long long time.

So I went through my photobucket, and i realised that i have not post my BFF day out 2!!!



So here goes...
The 3 of us decided to go to Bugis this time!

To accomplish the neoPrint Mission! The theme for that day was BLACK. Btw, the photo up there is photo-shopped so that 3 of us can be in the same photo

=)

So we were like thinking of what to eat, everything at Bugis seem expensive so we decided...
To settle for Hawker Fare just opposite Bugis Junction.

The food there is Cheap and Nice (although it's a bit hot...) After eating, we shopped around, and then...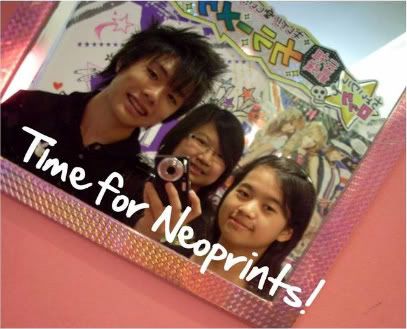 Complete our mission for the day!

Which is to take neoprints to commemorate our friendship! Wahaha! We took 2 times of neoprint cos...One is not enough!!! (Sounds like the Munchy Donut's slogan

=X

)
The editing of the photos.

Actually for more unglam photos, You can visit

Yah See blog

(clickable). Tell you something, she can actually blog an event on the actual day itself!!! WTH! It's something i cannot do

=X

That's why my post are always delayed.

~Well, not only me right...

After editting would be printing, then it would be...
The cutting of the prints.
Tell you all something. I was not "actually" cutting in the photo on the right. I was just posing because... I got unsteady hands
=X
But it did look real right??? *
Beaming
*
After Neoprint
, we went to Haji Lane, then Arab street, which i think these 2 places aren't that great like some people claimed.
Nevermind.
After all that long walk, we decided to have
Dessert @ Swensens
.
That's 3 happy people with their Ice cream
=)

Group Shots.
Individual Shots.
Mainly the Happy, the Cheerful and the GREEDY! Go figure out which is which =) You can see from the no. of ice cream cups infront of us
=)
Finally, we decided to end the day looking for the
ScratchIT card
! We bus-ed to Plaza Sing looking for a Singapore Pools Center.
That's us with our most happy faces. But after scratching the card...Yah see was not that cheerful...
Why?
Because Nurul and I won 5 Bucks each!!!
Who0ts! Yah see could only see...and collect the prize money for us...
So to compensate her, i ask
YOU
all, my readers to head over to her BFF day out 2
POST
to read about our day out
=)
With that, we end our BFF day out 2.