Have you watched the recent

Xiaxue's Guide to Life

?

She is looking for her BFF!

Well, the nominees are super funny! I am looking forward to the next espisode!



Well,

this post isn't about ME getting a BFF cos i already have 2!!! Well, we skipped school for 2 days, and today i am gonna share with you all what we did on Day 1

=)



9am

: Nurul and I slacking at Starbucks early in the morning. At about

10.30am

, Yah see came to meet us. We wanted to have Seoul Garden but it was kinda too early.

So we decided to head to the arcade!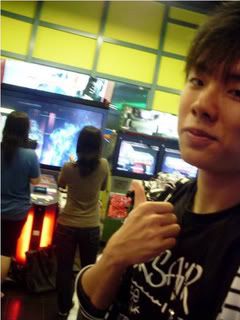 The girls decided to enter the

House of the Dead

and fight of Zombies!!! While i entertain myself with yah see's digicam.

~lalala

...



Until 11.30am,

we headed to...
Seoul Garden!

Decided to camwhore outside, well Nurul and Yah see was 2 happy people.

Why?

because...
I was paying.

Well, that day was like a post-celebration for their birthday. So i treated them to Seoul Garden and let this 2 hungry monster eat all they want for the price of one.



Honestly, i don't really like Seoul Garden.

It's like the same old thing. I would rather go for buffets that has lots of varieties ending off with lots of sinful desserts!!!

Any recommendation?
Wahaha!

When you have really nothing to do at Seoul Garden, you should...

Create your very own specialty!!!

Mine is the infamous Sasuage Egg omelette! Just follow according to the photo and i bet you can make the most delicious omelette in your entire life!

I'm bluffing you

.



Besides

creating your specialty, you can also...
A HUGE series of photos we took!

There is one SUPERB unglam photo of me, that photo is gonna ruin my reputation! Really, and NOPE, i am not gonna post it here.

P/s:

To nurul and Yahsee, i will delete all your tags/comments if you show my readers the photo!!!

Opps, did i just reveal where the photo is?



Well, to end of the day...

We headed to a relaxing place, where we can let our hair down, have some mocktail and SING!!!
~ *

PartyWorld...Cha cha cha...

* I also got no idea why i put my leg up on seat but this is the most decent photo out of all the photos we took.
I did not tell my mum i skipped school.
So she assume i went to school. But the next day... She knew it! I thought she saw my bankbook or something, so i could give the excuse that i have been blogshopping, thus transfering huge amounts to pay.
BUT guess what?
She found my
VISA
receipts, with my signature somemore! No way to deny it. Well, she was not angry...
Alright, That's all for
BFF's day out 1
. There is still Day 2!