Samsung OMNIA Blog Contest Entry.
OMNIA

may means '

everything

' in Latin and '

wish

' in Arabic, or '

everything i wish

for

' to some bloggers but to me, it's a different thing.
To me, each alphabet in

OMNIA

means something, So 'O' means something, "M" means something blah blah blah. But what does each alpabets really means to me? Well, each alphabet shows the function is really useful for someone like me

=)
Sit back(slowly scroll down) and hear my explanation.
O

means

O

n screen QWERTY keyboard. Know what it means?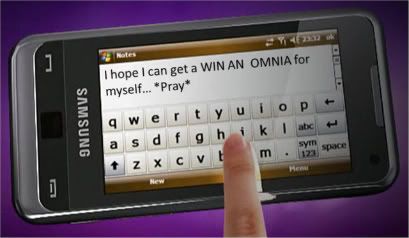 Nah! Does this picture explains everything.

Samsung OMNIA is a full touch sceen phone.

So everything is touch, touch , touch. No keypads. So everything thing is on screen. Touch screen is the latest handphone trend now! See the HTC diamond? The iphone? LG viewty? but...do they have the on screen keyboard?

What does

M

stand for?

M

stands for Microsoft Office! Why MS office? There seem to be Microsoft Office suites in OMNIA. Does it mean..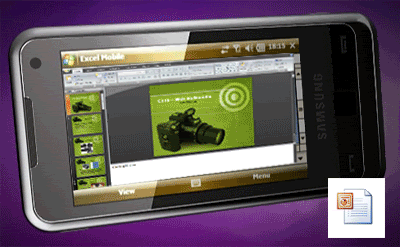 Does it mean I can view my files on the go? Does it means I can refer to my powerpoint files to revise for my test? And i can check my excel database to find something? Do a simple word document with the

QWERTY keyboard

? Seems like it...What a smart phone. Super useful for students like me.



N

stand for...erm...actually i just wanna say OMNIA is

N

ot an Iphone! I bet if i had an OMNIA and i were to bring it around, people would say "Is that an Iphone? Is that an Iphone? I would say, "

Nope, it's a Samsung Omnia.

"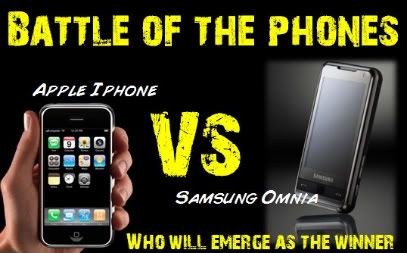 From what i think, if i were to choose between the Iphone and the Samsung OMNIA, i would choose the

OMNIA

.
Hey, the iphone may look stylish but there are still somethings that iphone will lose to OMNIA. Omnia has a
MicroSD card slot
, so if i would like to increase the memory space, I can. It works on
Windows mobile
. And i think Iphone need Itunes. I would rather copy and paste my music files into OMNIA then go through a program just to input songs... another reason would be...I tell u later.
Let's go on to
I
. What does I means...Erm...Iphone again?! Nope, the I in OMNIA to means
I

nternet Browsing
! With internet browsing...*thinking*
Does it mean i can view my blog on the go?! I can watch youtube?! I can check my mail?! That is super-ultra cool! Actually after mentioning so many things about
OMNIA
, it's as if i need not bring my laptop out anymore...
Lastly...to the last alphabet of OMNIA. The letter
A
, is what i really think i need most. Well, it's a blogger's most essential tool (other than blogging cells), can u guess what it is? It's the
A

uto focus 5MP camera
!!!
This is one of the reason why I prefer it rather than the Iphone.Instead of bring a phone and a camera out, why not subsitute it with a
GOOD camera phone
?
OMNIA has a 5 megapixels plus face/smile detection + auto-focus with Power LED flash camera.
What more can we ask for?
Being a blogger, I would need a good camera to take good photos(also to camwhore) so that i can present it on my blog.
Who would want to see lousy quality photo right?
So to conclude, each alphabet in "
OMNIA
" means something to me. Don't you just feel like getting a OMNIA yourself and see if it's as good as what i've just said? Well, i wish to get one too.
So Samsung, are you granting me this OMNIA(in Arabic)?