*Sings*

~ Hey Hey, you you, I don't like your girlfriend, No way No way, I think you need a new one...
Yes!

I went to

Avril Lavigne Best Damn Tour Concert

!
All thanks to
ClaireChing
who got an extra ticket and decided to invite me to go catch this superb concert! I have never been a concert at the
S'pore Indoor stadium
! It's my first time there!
Let me tell you...
The atmosphere is super high lah!
The concert stated that it starts at 8pm.
We arrived at Kallang MRT station at about 7.45pm, wait for the
Stupid
Bus 11 but it never came, and we decided to cab down to the indoor stadium.
Upon reaching, we were guided to our seats.
Our seats was re-located, and I feel that our seats is the best place in the whole indoor stadium lah! We were facing the stage.
It's was 8pm, and the concert is still not starting...
So we decided to take photos!!! Yup, that's me and Claire in the photo above. Since the show is like not starting, we roam around and took photos... GIANT HEADPHONES!!!

In our
"Goodie
bag
packet"
was a lightstick and a lanyard (first photo), so we started lighting up our lightstick..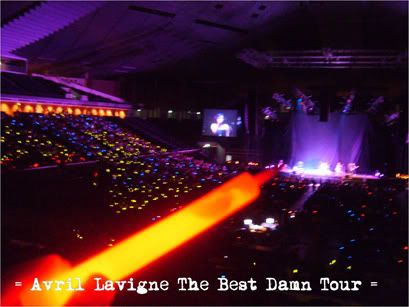 Mine was Red!!!
Actually different sections of the stadium was given different colour lightstick. To create the "effect", Since the lightstick comes with a string.


People
Everyone like the guy is front of me was...
Spinning the lightstick
, creating a "fan effect", i wonder what if the lightstick break off the string and hit the person beside /infront /behind you...
Hmm...
Finally @ 9pm, the concert officially starts!
( I did not type wrongly, it really starts at 9 instead of the stated 8pm...)
Everyone was high! Swaying their lightsticks from right to left when
Avril lavigne
was...
~ "
Hey Hey, You You, I don't like your Girlfriend, No way, No way, i think you need a new one!
" *
Electric guitar jamming
* and she continue singing... She can dance, she can do somersaults, she can play the piano!
Everyone was super high throughout the whole concert! Singing along... I love it when she played the piano to the song ~
When you're gone...
It was so nice!!!
However,
everything was over in 90 mins
. One and a half hour
=(
I haven't enjoy myself enough...and everything was over...
Outside the stadium, there are people selling laminated
Avril Lavigne: Best damn tour
postcard with a lanyard. The "unofficial" one, another meaning?
Hand-made.
One cost 5 bucks, But we manage to get
2 for $5
, how?
I diverted the uncle's attention, and Claire took one, i took one and we left!