Nope, i am not doing a review on the movie
BUT
...
I might do it if i manage to catch the movie!
Before i go on, you should watch the trailer...
So what do you think about the movie?

To me, this Thriller/Action is one show you must catch this season!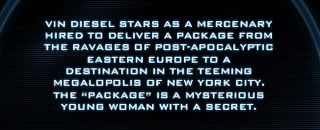 After reading the synopsis,
i just got to say, what a "package"
=X
Vin Diesel is the star of this movie, if you like his previous movies such as
XXX
, you should like this movie.


To find out more than this movie
, visit their official website
HERE
. How can i miss such an exciting movie!
So
Nuffnang
, can i have the tickets pls...