Nope, you did not read the title wrongly.
Singapore weather is so freakin' hot! There is this place in Singapore where you can indulge in Ice Cream. Buffet style somemore!
D-I-Y
!
Located at the 3rd storey of
Marina Square
(#03-210) is
Yuki Yaki
. One of the popular Japanese restaurant in singapore.
And it's super affordable,it's only
$8.90 per head
(excluding GST & Service charge), for a whole
2 hours
of indulgence. (
OMg, this post is sounding like an advertorial!
) So are u ready to SCREAM?!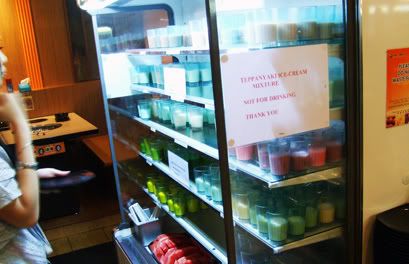 All these little cups are actually
teppanyaki ice cream mixture
. Each cup is one flavour, there is like chocolate, strawberry, passion fruit, vanilla blah blah blah.
So you just choose
, then pour the mixture into the "pit" right infront of you and then...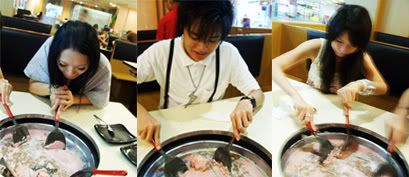 Start Scrapping!!!
From the photo above, it may look easy, like just scrap as if you are frying a plate of fried rice (
OK, what kind of example is this?!
) Nvm, the main point is.
IT'S NOT THAT EASY!
We had to use
2345/2350 of our strength
just to scrap that bit of ice cream up... Got an idea how difficult it is now?
More snapshots... continue Screaming...
Oh ya, did i mentioned that toppings are also available?

Other than ice cream, we get to choose toppings to "decorate" our ice cream!
There is like Chocolate chips, Chocolate rice, crushed peanuts, Colourful "rice" and not forgetting the wafer sticks, which "
innovative Us
" decided to crush the wafer sticks and combine it with vanilla ice cream,
PRESTO!
Cookies and Cream! *
Beam proudly
*
Not forgetting to take
235454623
photos so that i can share this wonderful place with you all! Opps, i realised i didn't introduce those 2 babes i went with.
They are Manda & Rinn!
I treated them to ice cream buffet for their birthday! So special rgt...
*Ding Dong*
2 hours is almost up, cannot take anymore ice cream mixture le!
Being
typical
Singaporeans, we took like many cups of vanilla mixture + many many wafer stick to create a...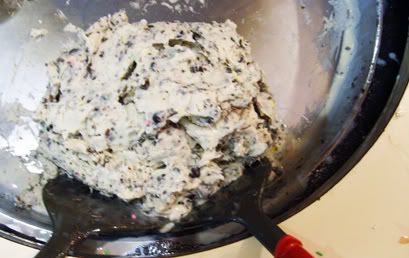 GIGANTIC Cookies and Cream I-Scream!!!
Enough to fill up one of those tub from NTUC. Only to realise we are kinda sick of eating ice cream, but we had to
find places to hide it
finish it cos there is wastage charges... I forgot how much they count for wastage...
To end this post, is the many many cups of ice cream mixture. After 2 hours of indulging in ice cream,
i swear to stop eating ice cream for one month!
*Cross fingers*
Checkout Yuki Yaki's unique Ice cream with your friends/family =)