I have like so many things to do?!
And all of them are due on

31st of october

.
I rushed out the most difficult task which is the

High school musical vlog

, submitted it 10 mins after the deadline. 5mins after submission, Raine from Nuffnang called me to ask me if i posted the video up. I said yes, and guess what she say?
The contest has been extended to

21st November

! Well, nevermind. At least one task is down.
I still got a few advertorial to do! (which i am going to do it right after i publish this post) and one of their spree is like closing soon?!

OMg, OMg, i feel so bad.
I haven't been blogging

PROPERLY

. Just look at the last few post. All is just "Chunk" everything out.

Like NOT INTERESTING AT ALL!

Even i, myself read also bored.
~

ANdyStorm! ANdyStorm! Wake up your idea!
I still got my

Birthday post!

I haven't even got time to look through all the photos!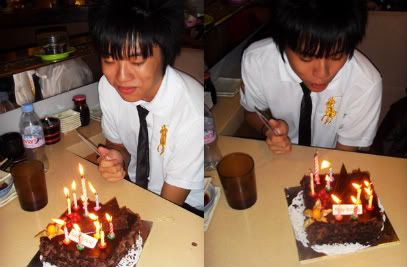 I must really make my Birthday post a super nice one to thank all those who made my 19th Birthday a memorable one!
I promise.
Oh, and I've got to do a super interesting post about myself
. I'm not telling you all the reason, but Nuffnang-ers will find out soon enough. I am still thinking how to go about doing it!
I've got so much so share with you all! Like sharing you all my first clubbing entry, and how i was denied entry just because
i don't look like my EZ-link photo?!
Tomorrow is the starting of my
1 week holiday
. And stupid me just submitted my work schedule
FULL SHIFT
from
MON to THURS
. Left with friday (PP presentation in school), Sat (No plans yet), Sunday(Big walk with Shawn, Ryan and Rinn).
And there goes my holiday!
Wait, is it even a holiday?
Comments not allowed.
Unless you got a really sweet nice encouraging comment =)