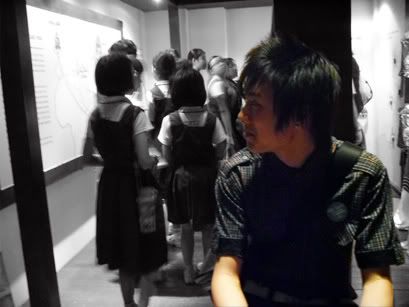 Ya, when i was like them.
On a school excursion. Wearing my primary school uniform, with a water bottle sling across my chest, Roaming around the place, poking our head into every exhibition.
Well,

many years later. In present tim

e.
..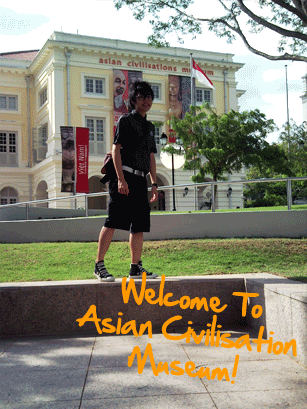 Let me,
ANdyStorm
bring you on a virtual tour to the
Asian Civilisation Museum
! " Are you ready to embark on this journey? "
Located near
Raffles place MRT station
, just across the Singapore River is the Asian civilisation Museum. You will need to cross the
Cavenagh Bridge
to get to the other side of the River.It's just a 5 mins walk from the MRT station.
Now you know where the place is?
Kindly follow me.
Basically there are 5 galleries in the museum
, as you walk, everything you see would be artefacts, statues blah blah, which does not really appeal to teenagers like me...
Luckily...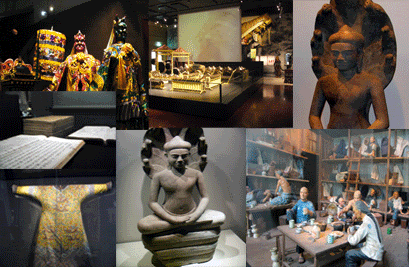 They have these little stops which they call the
ExplorAsian Zone
! The ExplorAsian Zone is what appeals to me the most.
Let me explain why...

The
ExplorAsian Zone
allows us to have fun and learn something about the
multi-faceted aspects of Asian cultures
at the same time. There are more hands-on. For example in the above photo (from left to right), we have the "
Islamic-puzzle-piecing
",
in-gallery videos
, "
pottery-design-shading
" etc.
Everything was hands on in the
ExplorAsian Zone
, rather than just me looking at the display, and forget everything the next minute. I would say the most interesting ExplorAsian Zone would be at the
China gallery
! Why?
There was a station where we get to dress up like those old-good-days opera actors!
Most people won't even dare to try, but being bloggers... and for the sake of photo-taking.
The next thing we did was to...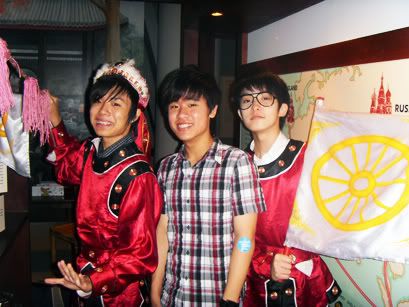 Try on the costume!!!
(STOP LAUGHING!) Haha! We spent like 30 mins there playing, taking photos etc. It was totally unexpected. The above is just one of the many photos we took
=)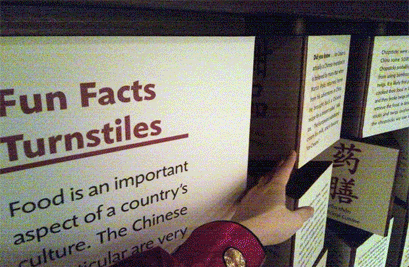 There were also other little stations which taught us a lot of china culture, such as the
characteristic of different operas
and
their style of singing
, the
different type of teas
, Fun facts etc.
So because of these
ExplorAsian Zones
, i would say my trip to the Asian Civilisation Museum was...
Quite an experience!
Perhaps one day when you are free, instead of going to the movies, spend some quality time with your good friends at the museum instead!
Trust me, you won't regret =)