One day after my 19th birthday

, Me, Rinn and hui xin decided to go clubbing, it's my first time so can you imagine how excited i was?! We met at bout 9pm, MRT-ed down to...
The Arena @ Clarke Quay
Age limit was
18
, No cover charge that day. I showed my EZ link to the bouncer (
is this what you call those guys?
) and went in. There was a live band playing and singing, the atmosphere was quite good to chill. Not alot of people on Monday.
We then ordered a jug of
Orange Vodka
and started drinking and chatting (although most of the time we had to shout because the music is super damn loud!).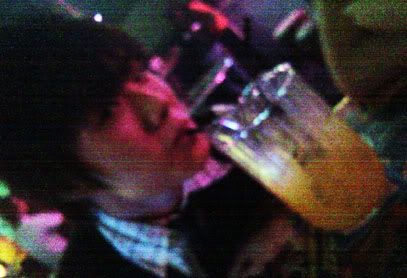 Sorry for the poor quality photo
, my Omnia doesn't work well in the dark, photoshopping won't help much also... Other than the live band, there was also 'live' action at the table infront of us. A couple up to some hanky panky (
to them,everyone around them was like invisible?!
), so it was quite entertaining
=X
At bout 1am or so, i wanted to take a breather. So i went out alone for a while.
After a while, i wanted to go back in.
The bouncer change shift
. So i had to show my EZ-link again (
I don't bring my IC out cos i lost it once.
) This time, the bouncer look at the card closely, look at my birthdate, followed by my photo. Taking glances at me and comparing the photo and me.
Then he asked,
Did you bring your IC?
I was like
WTH
!
I don't look like my EZ link photo meh...
So i said "Nope, did not bring. I came out from there." Pointing to the door. So he allowed me in. Imagine if he did not allow me to go in! I would be stuck outside lah!
You would be asking, your EZ link photo got that bad meh...
That was like in early 2007 =X
At about 2 plus, we headed to the 24hours Mac to grab a bite before cab-bing home =)
I wanna go clubbing again!