How did you spend your Halloween?

I think this is the first year I really go out there to celebrate Halloween. (

although i did not dress up

) The first event that actually brought Halloween to my life was when I got tickets to the

Exclusive Night Safari Halloween preview tour

tickets from OMY. Read more about it
HERE
.
I regretted not going to

Zouk

after hearing Rinn talk about how interesting it was! Next year, Next year!

Oh, guess where we went to celebrate Halloween?
ESCAPE theme park @ Downtown East!
We met at about
8pm
, ate dinner then headed to
Escape theme park
, Specially open till late for
"Hell"oween
. Did not take much photos because we were busy queuing for rides, but there are
HELL
lot of scary characters around.
One of the ghoul (
or are they called Reaper?
) lurking in the theme park. Opps, did i mention who I went with? They are
Rinn
&
Hui Xin
! Admission was
$11 per person
. Some rides were closed. I don't really remember the name of the rides.
The first one we took was some "
spin-spin
" thing, then we queued
45mins
for the Go-kart! Camwhore while queuing.
The above is one of the
234565 photos
we took. But i don't wish to flood my blog with peektures, so i just chose the above
=X
Honestly, i hate blogs that have a million and one never ending photos, with little words. Scroll scroll scroll until dunno when.
That's my personal opinion though.
Can guess what is the next ride we took?
Flume Ride.
The one that get you real wet if you are
with or
without a poncho. Rinn spent 2 bucks buying one. I and Hui xin just need to ask those "
xiao mei mei
" to give us
*Wahaha*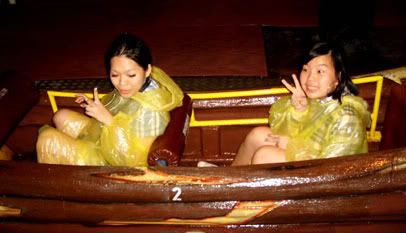 I wonder where they are looking at lah! There are no other people taking photo for them lor!
AND did you notice something?
The "boat" can only sit 2 person!
There is 3 of us. I had to go on the freakin'
scary
ride myself! (
I've a a phobia of height
)

ALL BY MYSELF!

After that we went into the
haunted house
. Hui Xin stayed outside cos she was a afraid! We left Escape theme park at
11
, and went to grab a bite before heading home at
12 midnight
, only to wake up
5am
in the morning to...
P/s:
I still think Zouk would be better and more fun!