I got to say this is the

BEST

blogger event that i have ever attend! You might have read about it at Peggy's/ Winnie's/ Esther's blog...

It's time to read mine!

I think i am one of the last few to blog about this event. I thought everyone would be taking their own sweet time to blog about it, but guess what?! Within a week, almost everyone blogged about it!
I totally did not regret leaving halfway throughout my test and chiong-ing all the way from woodlands to City hall. Claire & I was one of the first few bloggers to arrive at

Fairmount Hotel

, the actual venue of the event was actually at

Scarlet hotel

. A limousine came to fetch us! YOU did not hear wrongly!

A limo!
It's the first time i get to sit in a limousine (
Same for most of the other bloggers
), and i hope there will be a second, a third time! Inside is really super cool! Just look at the photo below!
There is a variety of drinks to choose from, Ranging from champegne, Juices, mineral water etc. There were also Expensive chocolate! Above our head is so Star-ry!
It's like a mini bar in the limousine!
I was busy taking photos and exploring the limo...
Finally we reached
Scarlet hotel
. The hotel may seemed small on the outside but it's actually quite big. We headed to the topmost level, where all the bloggers gather for some food and drinks.
Everytime bloggers attend events, we usually have to whip out our camera, to take photos so that we can blog about it, but for this event,
they actually hired photographers!
So all we have to do is pose pose and pose, and the next day, the photos are uploaded on
Facebook
for us to grab and blog!
Drinks & Food
were served while waiting for all the bloggers to arrive. There were a lot of food to taste. The waiters will keep asking you to take, making sure you had enough
:)
Soon after all the bloggers arrive, had enough food. The event started with philips pulling off a cloth to reveal their latest *
referring to notes
* Philips Flat TV with Perfect Pixel HD engine & Ambilight Spectra 2. Big difference compared to the normal flat screen TV.
Then, we were split into 3 groups to checkout the other
Philips
products, in different suite of the hotel.
(Click to enlarge)
*
Referring to notes
* They introduced a lot of their products such as the
Micro Hi-Fi system
, with Bluetooth technology, Their
audio Players
, Their
Acoustics In-ear Headphones
,
Shavers
,
Hair curlers
,
Hair dryer
etc.
While girls was checking out the hair curlers, guys was introduced
Shavers
and
Men loreal products
.
That's me listening attentively to what they've got to say about their products. I might need them soon... (
Actually i was wondering if those products are in the Goodie bag =X
)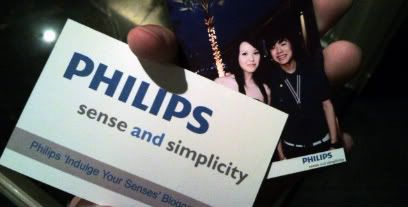 Photos were printed out almost instantly!
Suddenly, the photographer will come to you and pass you some cards, and you realised it's your photo! Great way to remember the event! Gonna laminate those photos.
Next stop was the Audio Room where we get to experience some audio stuff. The above photo is
BTM630 Micro Hi-Fi System
, which allows you to enjoy music via
Bluetooth
technology. There is even a
One-touch MP3 recording
, No PC needed! There is also a
built in mic
for hands-free calls! I would recommend this.
Everyone listening attentively. We also get to try their latest
Advanced Acoustics In-ear Headphones
. Honestly i'm not fan of In-ear headphones cos it feels weird. However their earphones comes with the
Comply™ Canal Tip' memory foam sleeves
, which provides comfort and noise isolation. It cost a whooping
$179
.
My group! With
Peggy
,
Winnie
and
June
, and two others which i dunno who are they. (
Photo clickable to enlarge
), after the "Audio" room, we headed down to the next stop, which is another ride on the limousine to test their
Mp3
s!
Taken in the lift with June, Peggy and Claire.
Winnie left early cos she got something on... The photos are really clear and nice compared to our cameras...
In the limo, we get to test
3 different earphones with 3 different Mp3
, then we fill in a survey form to choose which is our preferred choice. Until today, i still dunno what Mp3s are in the suitcase!
Not forgetting to take lots of pictures of the limo! It's not everyday we get to see one, not to say travel in one!
The above is just one of the many photos we took.
Lastly, we returned to the hotel suite for a
de-brief cum lucky draw
for those who brought their Mp3 (
I did!
), they thanked us for coming...and then to the lucky draw, the prize is the
$179 Earphones
!
A name was chosen out of all the names... So the Guy was like going...
The lucky person has a "N" in his name...
A lot of us have N in our name, then he go...
There is an "A"...
Everyone was like "
Nadnut! Nadnut
" I bet her heart was pumping super fast, until...
It's ANDY!!!! *
Throw confetti
* I was quite surprised that i won. So i was giving the million dollar smile when i shook hand with the guy
:)
After that we were dismissed, being bloggers, it's photo-taking time!
Pretty Ms Dowager
wants a share of my Ear piece! How to share, one side each? Nice meeting you! I was having eye infection that day, so i had to photoshop away the "reds" in every photo
:(
The other pretty sister!
Roaring Queen, Winnie!
Sorry i can't attend your friend's chalet the next day!
Nadnut
pouting cos she didn't win the earpiece. She even show me her "almost" spoilt earpiece with wire hanging.
In the photo, Issac, esther and fidelis.
(Click to enlarge)
Another group photo,
Issac and I are the only guy there lah!
With all the other pretty female bloggers.
Me, Issac and Esther.
(Click to enlarge)
A final group photos with all the bloggers that attended the event.
Great event wasn't it?
I would give philips 5 out of 5 stars for the planning of this event, making us bloggers felt like celebrities.
Not only that, We did not go home empty handed!
We had a Goodie bag each!
Comprised of lots of Loreal products and a
2GB PHILIPS MP3 PLAYER
!!! plus a folder with some pamphlets and notes to aid us in blogging
:)
Special thanks to
Philips
,
Loreal
and
P.Sabrina
:) and nice meeting bloggers such as Deadpris, the dudes from tech65, simplyjean, Iz reloaded etc
:)
I should start using the Loreal products, my skin is getting bad. Must be not enough sleep.
I shall stop here.
This entry is super long! Hope there is more events like Philips!
P.s:
More photos can be found
HERE
.