Before the actual event, i was thinking whether to donate

blood

anot, a lot of questions was popping in my mind. Btw, I don't think my mum allows me to donate blood. (

I can imagine her face if she read this post!

)
Nevertheless, I agreed to attend the drive when Raine called me. So fast forward to

29th November 2008

, it's Singapore's first blogger blood donation drive!
The event was held at
Bloodbank @ HSA
. Opposite outram MRT station. My time slot was at 1pm, but i was late =X (
While walking in, i was still thinking it will be painful...
)
Registered at the booth, we were given the I
❤
Nuffnang badge! I have like 4 of those! I am no.70, i wonder what the number means... I was also given a "
Be nice, this is my first donation
" sticker, some notes and a form to fill in...
After which, Rinn and I walked into the Refreshment room to meet the other Nuffnang-ers, Had to fill in my form, had a chat with those people i know, such as
Valerie
, and ...
Boss Ming.
Everyone was asking about my Shirt, From the photo above it may look like a normal I
❤
NY shirt, but later you might see what is written on my shirt
:)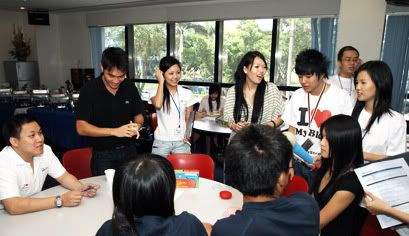 Although my time slot for donation was at 1pm, I wanted to wait for
Shawn
. There were a lot of board games and a GIANT snake & ladder for us to play!
On every table, there is this piece of paper.
Rinn and I decided to pose with it for Valerie to take. Might send the wrong message. Haha! After that we played games with the other Nuffnang-ers, played Taboo! It was super fun!
Soon, Shawn and Ryan arrive!
We wore the same shirt, Actually, not EXACTLY the same. Although both says "
I

❤

My Blog
", it has our name and blog URL!
Cool right?
Bought it from an online store. Claire was supposed to come, but she got work last minute, or else 3 of us would be wearing the same shirt
:(
Soon, it was time to our turn to donate blood.
We were led to the official registration counter, where we submit the form. Shawn did not get to donate because he is only 17!
No parental consent form!
So i had to go for the medical screening alone. I am quite happy that i am healthy, despite all the junk food.
Next is the blood test to check my blood haemoglobin level to ensure that i can make a donation.
I think this is the most painful part of the whole blood donation process!
They used this device to shoot a needle at your finger, then blood will flow out.
Above is the process.
They will let you hold this cute tomato stress ball. Then they clean my arm using a antiseptic wipe, then they inject a local painkiller, finally the thick needle.
No pain :)
The blood will flow to the bag below.


Within 15mins
, the whole process is done. Then they will bandage your arm with their cute bandage and you're done
:)
Redeem my Goodie bag after donating. It contains a blogger T-shirt that says "
I TOOK PART IN SINGAPORE'S FIRST BLOGGER BLOOD DONATION DRIVE
". + A pin that indicates your blood type (
till today, i still dunno my blood type!
) and a cert!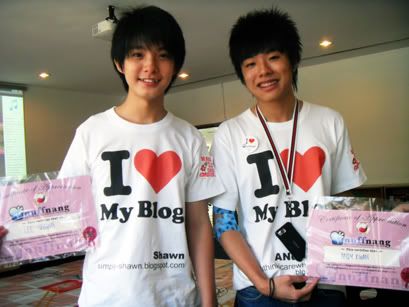 A cute little cert of appreciation from Nuffnang
:)
Must keep away safely from my mum!
Then ending the day with a buffet spread.
Lastly, ending off this post with the group photos.
Each group took a photo with an alphabet, putting these alphabets together, it forms a word -
Nuffnang
!
P.s:
Photos can be found
HERE
.