Finally i have the time to sit down and blog about this event!

Edited the photos long long time ago, uploaded it to photobucket, but didn't get the time to do it!



Received an invitation to the Soyjoy event

, where there will be a movie screening, and also a talk on Glycemic Index (GI).



It was held at...



Screening Room at 12 Ann Siang Road.
I didn't know a place like Screening room exists in singapore. It's a great place for holding gatherings, where there is food, drinks and film.
Of course it's super boring to go for blogger event alone, so i brought
Claire
and
Rinn
along :) Had to chiong to Chinatown...
The "
name tag
" that was given to everyone that attended the event. Although we were late, we were considered quite "
early
".
I meant that, the event was supposed to start at 7pm, but there were still familiar faces like
nadnut
,
Sabrina
, and
Priss
coming in...
On the table were snacks for us to enjoy while watching the movie.
There were Twisties, Potato chips, snickers blah blah blah, and not forgetting Soyjoy bars!
Little did we know that the snacks are placed there for a
REASON
! *Revealed later*
Before the movie start, the 3 of us start taking photos, Above is us posing with the Soyjoy bars,
Did you realise all 3 of us are holding the bar upside down?!
The movie screened was
Supersize Me
. It's a movie abt this guy who has to eat only items brought from Macdonalds for 30 days. It may sound like heaven to some of you, but after you watch the movie, you might want to stop eating Mac for awhile...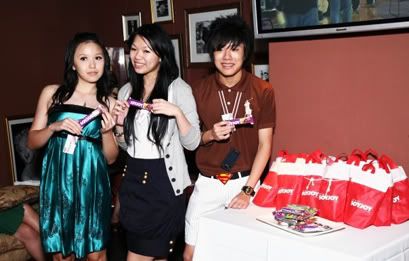 We decided to go out for a short walk halfway the movie because i was feeling abit sleepy
=X
We posed for another photo with the Soyjoy bars, this time with the goodie bags which was given to us at the end of the event.
After the movie was a talk given dietician share about the
benefits of a low Glycemic Index (GI) diet
.I managed to gain some knowledge about GI, if you are interested, maybe you would like to pop by this
Wikipedia page
to know more about GI.
At the end, we were asked to take out this form from our goodie bag and tick the items that we ate throughout the whole event!
Being Greedy-me, i ate almost everything!
So my GI indication was...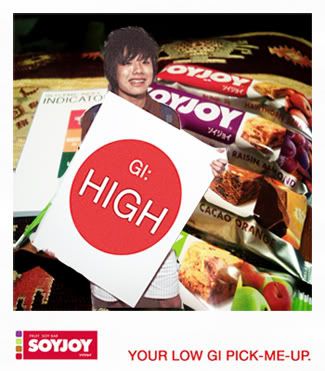 The above photo was a '
special something
' from Soyjoy.A mugshot of my GI intake for that night!
Everyone's GI intake was High, except for one girl.
Overall, it's was a nice event
:)