For the past few days, I've been compiling the photos taken at the

vPOST Nuffnang X'mas party

! Although i did not manage to get all the photos, i shall make do with what I have and blog about how fun the event was!
The event was
supposed
to start at 6pm, but Me and Valerie reached at
6.45pm
. We were still not that late because people is still streaming in at that time.
Had to register at the counter where Huiwen is, there were like so many I
❤
Nuff
nang Badges placed on the table. I've like quite a few of those at home
:)
We were issued our entry ticket...
Each tickets comes with 2 stub where we can exchange it for a drink inside
DXO
. We can choose from Softdrinks, Housepour or Beer. As usual, whenever i tried to enter a club, I've to show my IC,
especially this time when I am dressing up as a School Boy!
Before entering,
we had queue up to take a photo behind the backdrop, like those celebrity event, where at the end of the red carpet, there is a backdrop to pose for photos.
Clara
as _____. (
I forgot.
),
Raine
as SIA girl and
Cherie
as _____. (
I also forgot
) Didn't manage to take photos with Huiwen
:(
At first when i saw
Ming
, i thought he was a pilot, but when you look closely at his tie, you'll realise he's a student
:)
Once Valerie and I stepped into
DXO
, we were walking around to look for familiar faces. Found
Nadnut
and
Jayden
in the dark. Nadnut dressed as a teacher (
More like Sarah palin
), Jayden is also School boy like me (
His nerd specs is
Freakin'
huge!
)
This bunch of bloggers came up to us and intro-ed themselves. (
I think val knows them.
) Saw my photo on a few of their blogs. The one in the vendetta mask is Weijie
:)
From this photo, you all can see what val dressed up as right?
Soccer Player!
Soon,
Winnie
and
Esther
came. Both dressed as
Santa

rina
!
I was with this crazy bunch of
Santa

rina
the whole Night! Lucky me! Haha!
Kenny Sia
is not the only lucky one okay... That night, I finally found a common thing between Winnie and Peggy!
Winnie Heng
and
Peggy Heng
:)
Peggy wants to be Nerdy Santa-rina!
The event officially starts when
Ming
gives his opening speech!
Randall tan
was the MC for the day! He did a really good job in getting the atmosphere high!
There was also buffet dinner

!!!
That's me with a lot of Santarinas hogging the buffet table!!! *
Surrounded by Chio chio Santarinas
* All Peggy's and Winnie's friend. While eating, one of the games started...
Best Dressed Male/Female blogger!
We have the tranny, Samurai and Paranoid from the male's side, Venus, Virgin Bride and _____ on female side. They had to do the Catwalk on the stage.
Beside me is the Winner of the
female
, Opps, i mean Male category.
Do you know who he is?
HE IS
TYPICAL BEN
Tiffany
! He came as a girl!!! Everyone was super shocked. Who would have thought he would dress up as a girl...
There is also a Award for the
Top 3 most creative post
. The top 10 blogs was flashed one by one on the projector, which is super cool! I think the blogger would be super proud to see his/her blog flashed on the screen viewed by hundreds of people.
Guess who won?
Jayden! He really deserved to win with that cute video! Peggy won the 2nd Prize
:)
I should have joined!
The "
Don't forget the Lyrics
" Segment. Those who got chosen have to sing along to a X'mas song, then when the music stop, the person have to continue the next sentence of the song.


KennySia
failed his attempt! So next was this Nuffie from M'sia who sang "Jingle Bells" (
Honestly, I don't even know any X'mas song, except for a few chorus =X
)
After the singing, it's the highly anticipated
Lucky draw
! The prizes are attractive!!!
I did not win anything :(
Boo! Boo! Val and Winnie won something...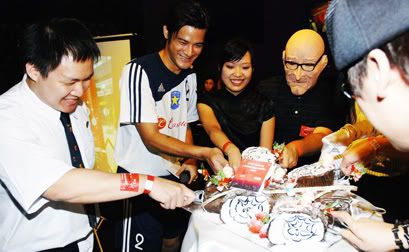 Lastly, it was log-cake cutting!!!
The VIPs went on stage to cut the
HUGE
logcake to commemorate this event. I heard the logcake is freakin' nice!! And it's chocolate flavour somemore!!!
Remember that I mentioned earlier about taking a photo before entering DXO? At the end of the event, everyone that attended the event got a
personalized MyStamp
! So freakin' cool! I won't even use it... I would keep it safely
:)