I went to print my namecard today!
I finally managed to finalize my design after so long. I will be revealing the design soon, and the
5 lucky readers
who got chosen! It takes about
4
to
5
days for the cards to be ready.
So meanwhile, share with you all this place :)
Felt like blogging but dunno what to blog, so I looked through my photobucket account to see if I have any delayed photos that I did not blog about... And I found these photos!
Supposed to be blogged like last year?!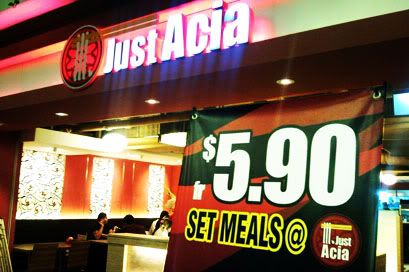 Rinn, Hui Xin and I wanted to have dinner but can't decide where to eat, so I suggested the newly opened (not so newly opened now)
Just Acia @ Downtown East
. I was mainly attracted by it's Set meals with
FREE
flow of drink and
FREE
flow of Ice cream!
Ordering style is like Cafe cartel whereby we self-order by filling up a form, after which we were given an empty cup and bowl.
For us to get our drinks and ice cream!
That's Rinn and Me with our set meals.
All 3 of us ordered the Chicken Set, I forgot how much it cost but it's quite worth it because we only pay
one price
for a set meal, which comes with the main dish, a bowl of rice, miso soup and some kimchi, not forgetting the
FREE
flow of drinks and Ice cream! (
Always emphasizing the FREE flow
=X)
Since it's
FREE
flow of drinks and ice cream, the first thing I thought of was Coke float! Just like everytime when I go to Seoul Garden!
Do you do the same?
Some "Artistic" shots with the food and us :)
The food is really not bad, as you can see from the photo above
:)
I swear I finished
EVERYTHING
except for the kimchi (
cos I don't take spicy
) and the miso soup (
I don't like the taste of Miso soup
). Alright, not
EVERYTHING
afterall.
Here comes the
BEST
part! The
FREE
flow of Ice Cream! Aren't you irritated by the "
FREE flow
" thing by now? =X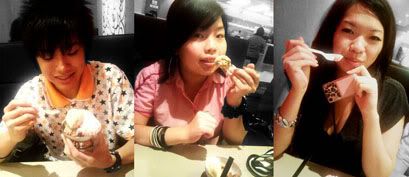 There were 6 flavors for us to choose from!
Look at our happy faces!
We were so damn full after eating the Ice cream. For less than 10 bucks(depending on which set meal you order), we get a main course, a drink and dessert,
I think it's super worth it!
Other than downtown east, there is another outlet at
Dhoby Ghaut MRT station
:)
Chinese New Year is coming!
I have been pampering myself recently! Yesterday bought a pair of Slippers, today bought 2 bagpacks, got a new hair colour (
I swear I look like some Ah beng now!
), sent my namecard for printing ++
Have you bought your New year stuff yet?