Special Thanks to
Omy.sg
, I got myself 2 tickets to the
Gala Premiere of Jack Neo's Latest Movie, Love matters
! It was held at Vivocity, and it was a
Red
carpet event, we get to meet the cast, director and celebrities in person! *
Expecting lots of celebrities!
*
Rinn and I took the train all the way to Vivo after school. And collected our tickets at the Omy booth at about
7.50pm
. There was quite a lot of people there already!
The event starts at
8pm
, so we mingle around to try spot familiar
bloggers
/
celebrities
but only managed to spot one of Mediacorp artiste,
Huang Biren
. Soon everyone crowd around the red carpet, waiting patiently for the celebrities to arrive.
Those who did not manage to get a good spot beside the Red carpet opt to crowd infront of the stage, where the celebrities who arrive will be interviewed by the MC (
I and Rinn managed to get nice spot beside the Red carpet!
) Just see the photo below!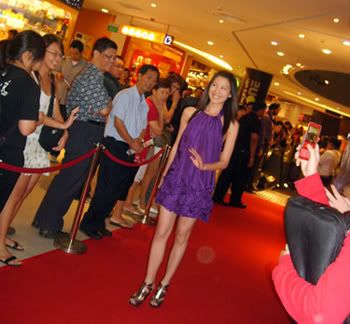 YUE NIANG!
Although she is not acting in the movie, she got the loudest cheer when she walk down the red carpet.
She is so pretty in real life!!
Other celebrities were Laozharbor,Jack Neo ++
When the last celebrity(s) arrived, the whole cast gathered on the stage, Everyone whipped out their camera, be it their
HP camera
, or
DSLR
or in my case,
DigiCam
, Everyone was snapping away trying to get a good shot. *
Blinded by the flash(s)
*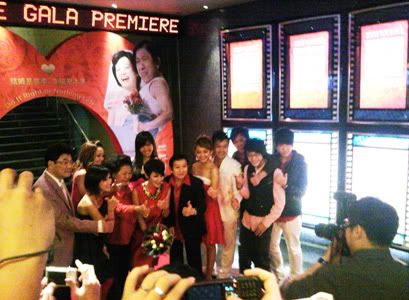 One last photo of the cast before entering the Cinema.
After which, everyone queued up to enter the cinema. It was free seating. Then the main cast of the movie went theatre after theatre to send their early
Chinese New year
greetings :)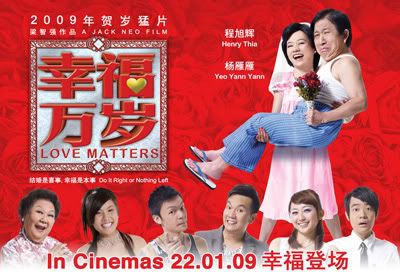 "
Love Matters
" is a movie revolving around three main protagonists - 52-year-old Tan Bo Seng, his 17-year-old teenage son Benny and... (
No point, copying and pasting the whole chunk here, so you might want to read it
HERE
!
)
Review:
I would say the movie is quite nice, and the jokes & Conversation are really funny. But there are some serious parts, like facing the consequences of something that you have done. Btw, the Movie is rated
NC16
, so expect some dirty jokes! Haha!

This Movie get 4 out of 5 Popcorn!
Ending this post with me and my partner for the day,
Rinn and Me
:)