Was invited by Sabrina to the

LG Prada Asian Launch

held at

St.Regis Hotel

, managed to get an invitation for Claire also

:)



Met Claire before heading to the hotel, using my Omnia GPS, I figure out that Regis Hotel should be somewhere around walking distance from Orchard station.
After walking like halfway, the hotel seem

so-near-yet-so-far

, I decided to walk out to the road to take a cab instead

:X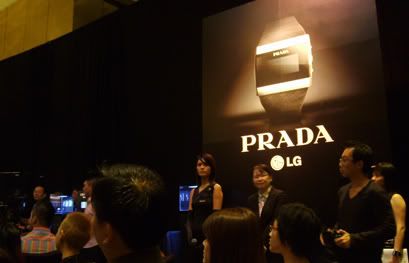 It was held at

St. Regis, Jacob 1

. The place/setting was exactly right for a brand like Prada. (

I heard St.Regis is a 6 Star hotel!

)
Mainstream media
as well as
Bloggers
from Singapore, Malaysia and Hong Kong was invited to this event where we get to know more this newly launched
LG Prada
Phone.
As we were quite early
, We mingled around the showcase(s) to checkout the phone first..
There were models at the side of each showcase showing you and explaining to you the latest functions of the Prada phone, letting you try it out. Before this launch, there is actually a previous version of the Prada phone.
This time, they added new things like
QWERTY keyboard
and the
Prada Link
. (Which are the 2 things which I love most!
♥ ♥ ♥
)
This
Prada link
is something that I am interested in, because although it looks like a normal watch, it has the ability to link up with the Prada phone using
Bluetooth technology
.
With the
Prada Link
, You can
read your sms-es
,
reject calls
etc. Which is a good thing as you don't have to keep taking out your phone from your pocket or bag. (
However, if you wanna reply/pick up a call, you will have to take the phone out.
)
Another thing is that, the Prada Link can only link with the LG Prada
:(
What I really love about this Prada phone is the
QWERTY keyboard
, As you know, I'm using a Samsung Omnia now, but the typing of sms is actually quite a hassle as there is no '
physical
' button to press
:(
Other than the keyboard, the
design
and
interface
is in fact, better than the Omnia. After talking so much about the phone, here is the part where most people would be concern about...
The pricing!
The LG-Prada phone retails at
SGD 1288
(without contract) and the Prada link retails at
SGD 688
.So the whole set sets you back at almost
2000 bucks
. Well, it's targetted at the high end fashionista...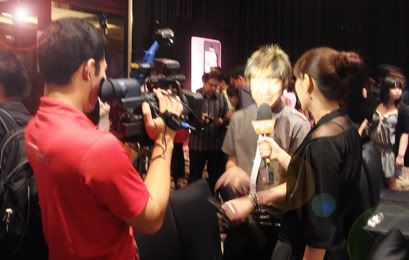 I actually gave my 2 cents about this phone in a
RazorTV interview
, but I'm not going to post the video here cos it's super unglam! The camera zoom until can see the pores of my face lor!
Go search for it if you want...
After the event
, it's socializing time, whereby namecard are put into good use. Chat around with bloggers from Hong Kong (I
felt proud to be a Cantonese
*
beam
*) and the usual bloggers from Singapore,
Peggy
and
Esther
. There should be more, i think...
A group photo with the Giant LG Prada wallpaper
:)
Can you spot who are the bloggers in the photo? There is
Kennysia
&
Cheesie
from M'sia
:)
That's all, hopefully I get to review the phone soon
:)