I have never wrote a bad food review on my blog because there seem to be no point sharing something that is not good. If you read all my reviews, you will realise it's something good, it's either
cheap
or something
new
or
simply not the norm
.
But this time, I'm getting evil. (
Too much Left4dead?!
)
That day was a
Informal Nuffnang peeps gathering
, So since I was attending the
HTC Dream event
nearby at orchard, I decided to drop by Plaza Sing Starbucks to say Hi to the bloggers.
After which, We decided to head to
Xin Wang Hong Kong cafe
.

I have always been a Huge fan of HK cafe, due to it's "
Hong Kong
" concept, typical luncheon meat meal with egg and veg with either rice or noodle,Ice milo served in tin mug etc.
Something that can be done at home easily (
and at a much cheaper price
), but I just love dining there
:)
However, I am quite disappointed with the
food
and also the
service
at the PS outlet. We ordered quite a lot of food, and in terms of taste or apperance,
there is a difference
.
As usual, I ordered the
typical luncheon meat rice
. When it came, the most obvious difference was the thickness of the luncheon meat.
Really!
You go Cineleisure and try theirs!
Thick and nice!
For these, it was like...
argh
, forget it.
Btw, I ordered a
Ice milo
, and it was really bland, perhaps that's why they have a Milo dinosaur,
if you know what i meant.
Yingzi ordered a
Char siew noodle
or something. The apperance is rather bland, and I tasted the meat, and it was not really nice. She also ordered a
Mango ice
, which was not blended properly!


There was still chunks of ice in it!
We all know how frustrating it is to drink an ice blended drink which is not "well blend".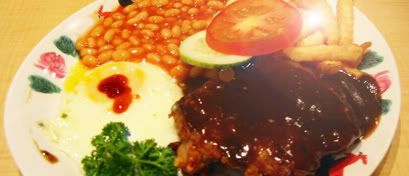 YL ordered a
Black Pepper chicken chop
, Appearance wise, it was good. But the appearance and the taste is
2
different things. She stopped eating after the first bite because it was too salty.
We thought she was exaggerating until we tried it ourselves.
The whole dish is salty!
We complained to the manager and he waived the dish for us, which is what other place would do.
I'm a huge fan of Dim sum, and we thought it would be good if we order a few varieties of Dim sum and shared it among ourselves.
I was super disappointed with the Har Gao.
When I picked it up, the "
skin
" broke and I was flicking water out from it! If i were to exaggerate, it was
AS IF
it was
Xiao long bao
.
Basically, the Dim sum was all soggy. Like it's left there for quite a while until it condensed. Out of the 5 gyoza in the photo,
4 was left untouched
.
Enough about the food,
now to the service
. We told the manager about the food, and the manager was not even paying attention to what we were saying, which was quite rude.
After which we still paid the bill of
$80+
and left the restaurant, we were discussing about doing a review since we were bloggers,
when we saw a flash coming from the store
.
They were obviously taking a photo of us!
So we took a photo of the signboard intending to put in our post, then one of the manager came out to stop us, and demanded that we delete the photo.
We refused, and they threatened to call the police.
We agreed, but in the end the police was not called in.
I never had any problems with any restaurant not allowing us to take photos except for this HK cafe (
perhaps they know that we gonna put it on our blog?
)
I think I will never step into PS Hong Kong cafe ever again
, but I will still patronize the outlet at Cineleisure because their food and service is excellent
:)
P.s:
Before you say the food look appetizing, and it's making you drool, let me tell u, with a Good camera, and Photoshop, you can make anything bad looks good.
Anyone has any good or bad experience at any cafe/restaurants? Wanna share?