Can anyone recommend any places in
Singapore
where we can have fun, and need not spend a lot of money?


I'm quite sick of town already.
Meeting place is always at town town town, because it seems to be like the "center" of SG, and it's like the "
shoppers paradise
" in Singapore *
roll eyes
*
Few weeks back, This group of friends and I decided to go to Sentosa! It was such a fun fun fun day, because it's not the usual "
town day
"!
The magnificent
ANdyStorm
,
Ying zi
,
YL
,
Alton
and
Shawn
(:
I got to know this bunch of great friends through blogging
(:
It had been raining everyday for that week, but I don't know why the weather was freakin' hot that day. And I
finally got to do something that I always wanted to do!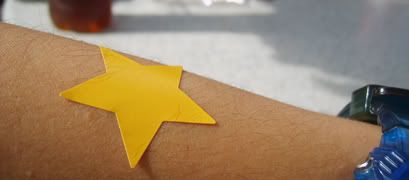 Try and get a Star Tan!
Before heading to Sentosa, I was like practically searching for
Star shaped stickers
, just to see if the whole tanning thing will work. So this
yellow
star accompanied me thru the whole day, try to spot it in the photos! (
btw, it did not really work...
slight effect
)
After hopping onto the island bus to take a tour around Sentosa, I wanted to go onto the
LUGE
! I realise not a lot of people know about the LUGE...
So the next thing we knew...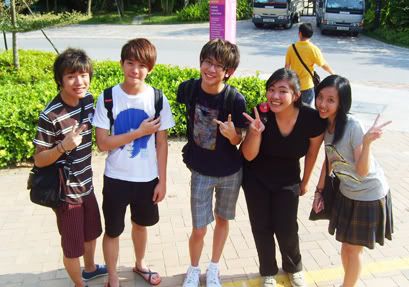 We were heading for the LUGE!
We got 5 tickets, and it was not expensive at all! It's only
$6 for students on weekdays
! 6 bucks for total fun! What can we do with 6 bucks in town...
Get a fast food meal?
Wait, let me gather some info about the Luge *
google-ing
* The Luge is a
Part go-cart, part-toboggan, pure excitement thing
– the luge is a fun-filled gravity ride that's safe for all ages.
With a unique steering and braking system that allows you to make the ride as leisurely or as exciting as you want
(:
First stop:
We had to take the skyride to get to some where high so that we can "
luge
" down the slope, and the
$6 tickets includes one skyride and one luge ride
! Totally worth it!
The experience is like those snow-ski places except that everything around you is
Green
instead of snow white.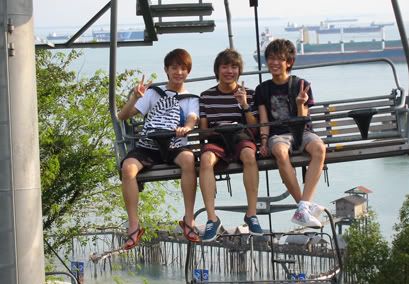 Up up up and away!
The ride went quite high and shawn was afraid!!!!
HAHAHA!!!
I got phobia of height, so I try not to look down
(:
The guys took one chair, while the girls took another.
Looking at the photo, the chair kinda tilt to one side hor?
The girls with a magnificent backdrop!
Wallpaper worthy photo (:
Taken by yours truly. With the camera that spoil that very day
:(
Checkout the scenery!
We get to overlook Sentosa, and look at ships!
Sentosa is a great place to take photos too!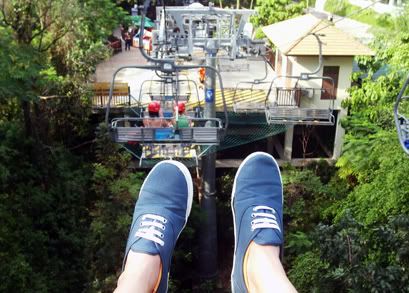 After like 10 or 15 mins, it was almost time to get down and start our 2nd part of the whole fun!
We were going on the luge!!!
Well, for safety reasons, they expect us to wear helmets...
Everyone trying to look good in helmets
(: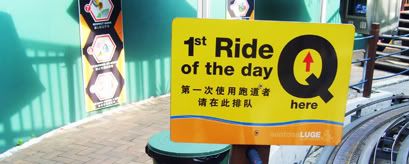 Super excited for those first timers!
After being taught how to "
operate
" the luge, we were off to go!
The result of trying to take a photo on the luge
(:
So in order to take photos, and also to make the ride last as long as possible, we parked our luge and one side to take photos!!!!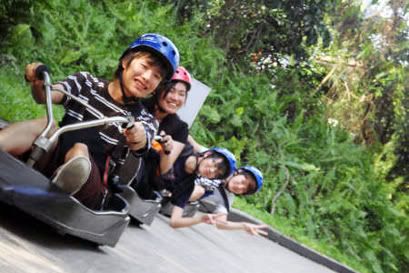 Yay-ness!
Mission accomplished!
It was so much fun that we decided to go for another round!!!! So we paid another 6 bucks to go up the skyride and down the luge again (:
It's only 12 bucks in total.
I'm SO not going to tell you all about me off steering the track into the bushes and it was un-glamly video-ed down.
Shit, did I just say it out?!
It was because I was controlling the luge with one hand and video-ing the whole process with another!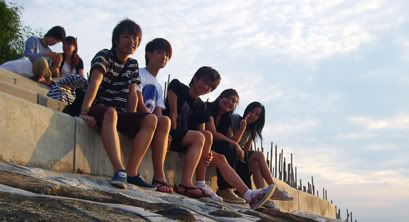 We ended the Sentosa trip by taking lots and lots of photos at the beach.
The setting sun backdrop was a sight to behold.
Love taking a breather from the hectic life. ~ ahhhhhhh..
Another photo
(:
I used to think tripods are useless and it's a hassle to bring out.
Who cares whether cameras are bundled with a mini tripod or not?!
But that day, it proved me wrong. Group photos were taken using self timer on a tripod!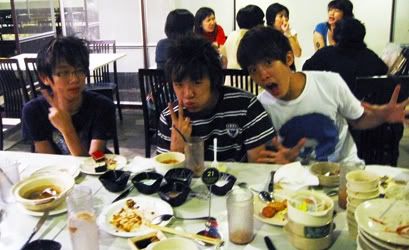 Being super hungry after all those fun, we decided to empty our piggy bank and headed for
Sakura buffet
in town! Yes, town again. We are always living in the shadows of town
:S
Argh.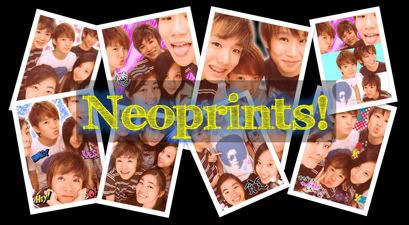 Ending the day taking Neoprints!!!
I must seriously recommend this Neoprint machine at Cineleisure! Nope, it's not the one at the pretty Tokyo or what-the-shop-is-named. I
t's the machine at the arcade!
Pictures comes out flawless, no pimples!
Alright, that's all for my Outing with these bunch of Nuffnang peeps!
Organise more of such interesting outings!
Signing off,