So excited right now, I will be going to Malacca in
14 days
!
And I will be going for
5 days, 4 Nights
!
Yes, I can imagine your reaction - "
5days?!
"
Yeah, That's everyone's reaction.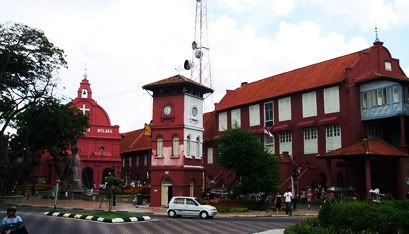 Come to think of it, 5 days is abit too long, but it's at least better than staying in
hectic
singapore, and I have planned what to do during the 5 days!
I will be staying at this hotel:
We should be spending one day touring around Malacca (
btw, I bet there will be tons of Little nyonya fans there lor
) trying out the food there and explore the historical stuff, not forgetting to take a lot a lot a lot (
repeat 2000 times
) of photos!
Other than that, We have made plans to go on the
Malaysia Eye
!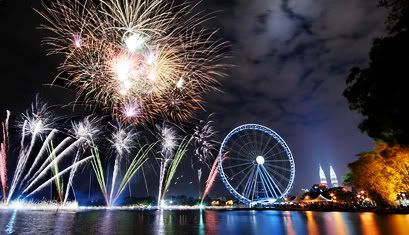 Who0ts!
Doesn't it look nice in the photo?
It's located at Malacca! What luck! But I have heard from my colleague that the S'pore Flyer is soooooooo much better. They say the capsule on the Malaysia eye is like in a cage
-.-'''
I shall check it out for myself.
Another place we will be checking out would be the
Afamosa resorts
! In this resort there is a
Water world
, a
Animal world
and a
Cowboy town
! and it all looks super fun! Guess we will be spending one whole day checking out the place!
Lastly,
Shopping
! Which is like the most important thing when you go to another country! I will be changing Singapore Dollars -
$231.0924369747
to Malaysian
RM550
.
~I gonna spend like a King! *
Evil laugh
*
But I heard there isn't much to shop at Malacca so...
We are dedicating one whole day to go to Kuala Lumpur!
If i'm not wrong, we should be taking a bus from Malacca to KL in the morning, then Bus back at night! I have been there once, and the things at the Berjaya times square is freakin' cheap!!!! I gonna get my leather jacket, my hoodie vest, my.... my...
*
continue naming non-stop
*
I think with all these activities mentioned above, I guess my 5 days will be filled up!
OMg, I'm so excited.
I guess I have to bring lots of batteries, so that I can take lots of photos!
*
hyperventilating
*
P.s:
Anyone of you went to any of the place mentioned above? Kindly share your experience! Or would like to share some interesting place to go, thanks!