As you all you might know, I'm going to M'sia for a holiday!!!! *
Super Excited
* In around 10 to 12 days, I'll be heading to Malacca.
So I think I should start thinking what I need to bring.
I gonna need basic necessities such as Shampoo, Hair wax etc.
I was reading
Watsons
latest catalog
, and It's their
21st anniversary
! How times flies! They have been in singapore for the last 21 years (
even before I was born!
), and they have expanded to more than
1600 stores
across Asia! Watsons is like one of the best place to get your stuff because the things are of great value at an affordable price
(:
Don't you think so?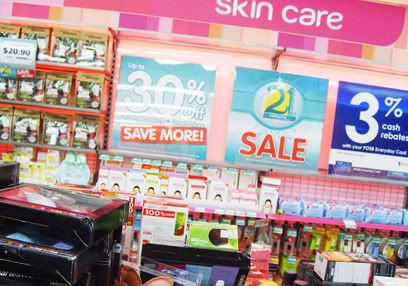 When we think of Watsons, the first thing we should be able to think of would be the wide range of products they have, ranging from
skincare
,
beauty
to
food and beverages
, So I guess I should take advantage of their
21st anniversary
promotion, and save some $$, while getting what I want! *
Double happiness
*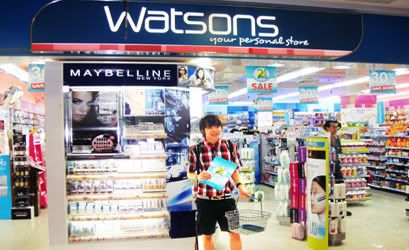 Called up
Claire
to accompany me for this shopping trip, So we headed to the nearest watsons store! Armed with a
21st anniversary catalog
and
a shopping Basket
, I'm off to go!
Once we entered the store, We were greeted by posters hanging from the ceiling, and it says "
Up to 30% off, SAVE more!
", looks like I'm at the correct place to get my stuff!
There are different sections in watsons, example would be food and beverages, skin care, beauty etc, so I know exactly which section to head to get what I want
(:
Ok, this may sound stupid. I should be going straight to get the things I want, but somehow I was "
lured
" to the confectionery section. Who can resist Dark chocolate (
Toblerone especially!
) that is going at only $1.95?! (
Usual price is $2.95!
)
Alright, Time to get to business.
First stop, Hair wax.
There is a huge variety to choose from. I thought of trying a new brand/type because my current one is from Loreal.
Maybe I should go for XXX brand, YYY brand or simply Gatsby...
There's a promotion!
Since it's
Watsons 21st anniversary
, they have promotions such as
$2.10 hot deals
and the
$21 best buys
. And this mini colour wax, cost only $2.10! (
up to $4
), it's metallic silver, can't wait to try it! It should be just like highlight
(: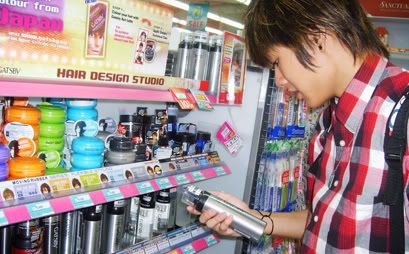 In the end, I still have to get a proper wax, after considering all the different brands and type, I decided to go for
Gatsby style foam
with the cool looking bottle!
Best buy at only $6.48!
What's next?
Shampoo!
I wanna get a small portable shampoo whereby you can use it for at least 5 days... The shampoo must be nice-smelling and good for the hair, seem like I need to ask the expert, wait,
where's claire?
*Searching searching*
She went to the beauty section all by herself! Seem like she is interested in the
Majolica Majora
(
Which is only available at watsons!
), I would say the design of this Majolica Majora is really nice. Black and Gold works wonders. Seriously...
You can expect to find brands that is
ONLY AVAILABLE
at Watsons. No where else
:)
Look out for products that has the "
Only @ Watsons
" words. You can expect to find great deals that is only
available at Watsons
. An example would be the above Loreal, Spring 2009 Runway Beauty Inspiration, there are many more!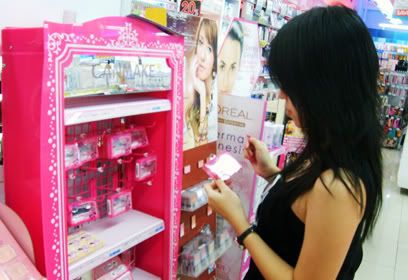 They even have faux lashes! No wonder why
girlfriends
female friends like to go Watsons to get their cosmetic and stuff.
Back to the shampoo.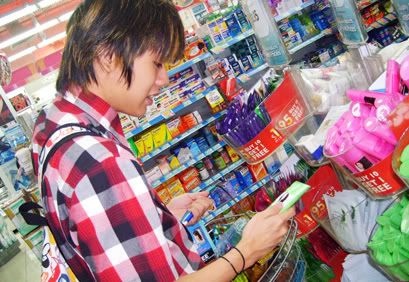 After roaming around, sniffing the best deal, comparing prices. I decided to go for the
Sunsilk Shampoo
which cost only
$1.95
! Cheap, portable and the amount is just right
(:
Somehow I got "
lured
" back to the confectionery section! More chocolates. Suddenly got the urge for
Ferrero Rocher
, think I will get the 3pcs back since it's only for snack.
But wait!
One cost $1.65, 2 cost...
$1.95
! Any sane human would get 2! (
Unless you really don't have the 30cents, and that's really sad :(
)
Die... Once I start shopping for food,
I can't stop
! What sweet should I get... If you look closely into the photos, those price tags that are
orange
are actually those on promotion!
Potato chips!!!!
Haven't try this chipster before... Is it different from normal potato chips? Nevermind, I'll get one and try
(:
Shit! I'm side-tracking!
I'm supposed to get things for my malacca trip!
Facial wash!
I think I will get
Clean & Clear face wash
. Wait! *
Flip catalog
* There's a purchase with purchase promotion! With every $10nett spend, I get to buy an "
Purchase with Purchase
" item! Yay! Now I can save 25%
(:
*
Continue flipping catalog to find more deals
*
Mickey mouse Water bottle, Cups, Blankets and umbrella going for only $2.10 each! (
up to $9.95 each
) Hot deals! Since it's like $2.10, I got 2 water bottles, one for claire, One for myself! I got an umbrella too!
Just in case it rains in Malacca!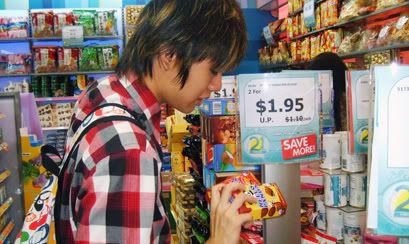 Sorry to sidetrack
AGAIN
but who can resist delicious hello pandas going for
$1.95 for 2
! Good deal! Good deal!
Alright, that should be about it,
Did I miss out anything...
I have a Gatsby colour wax, A Gatsby style foam, a Sunsilk shampoo, A Clean & Clear face wash, 2 water bottles, 1 umbrella and
A WHOLE LOAD OF JUNK FOOD
. Including 3 packets of Anlene concentrate chocolate milk which claire feels like drinking (
3 for $2.10! 90 cents each!
So she save like 60cents!)
Alright, I'm done.
Proceed to counter for payment!
As you can see from the photo above, the result of a very productive (
minus-ing the side tracking
), I repeat a very productive afternoon at Watsons!
You might want to head down to the nearest watsons store to sniff out the best deals
OR
get a catalog from any of their store to check out the promotions! The 21st anniversary promotions starts from the
26th of Feb
to
25 of Mar 2009
!
Oh ya, Did I mention that Watsons is offering a
$21 Mystery Bag
as part of their
21st anniversary celebrations
?
They have collaborate with the famous
Cozycot
forum to sell their Mystery bag! Everyone loves a Mystery bag because you never know what you gonna get!
But fret not
, you won't get lousy stuff in this bag!
Here are some
brands
you can look forward to in these mystery bag:
(update:
4 more brands added into the list!
)
(update:
Another 2 more brands added!
)
Of course, these brands are not all, there are many more! By the way,
each bag is packed with different goodies so every bag is a surprise!
The bag is worth more than
$100
in retail value! So you might want to head down (
virtually
) to the
Cozyshop
to get one!
Check out
THIS
website for more details on the mystery bag.