Creating a membership card is one of the best way to reward your customers for their loyalty. You can offer them discounts or rebates, so that they will continue patronizing you.
This is one thing I learn from my marketing module and
Watsons
is one of the latest to join the Membership card bandwagon!
Let's take a look at the card!
Your Passport to Health, Wellness & Beauty. This Watsons card can be purchased at any Watsons store for only 5 bucks, and you get a
LIFETIME
membership! No renewal, no expiration, nothing. It's a lifetime for only 5bucks! How good can it be!
If you sign up now, you will receive more than
$150 worth of vouchers
+
20 bonus points
if you activate your card online! Let's see what the card do...
- Every $5 spent = 1 point.
- Every $50 per transaction = 10 BONUS points!
- Enjoy 2X points on Watsons house brand!
- Enjoy 5X BONUS points on your birthday month every year!
(limited to first time usage each year only)
- Monthly Member-only promotion!
- Exclusive invites to sales, events and workshops!
Every 20 points = $1! Every point counts! The more you buy, the more points you can accumulate and use it to redeem your facourite products at Watsons!

Remember to activate your card online to get the bonus 20 points!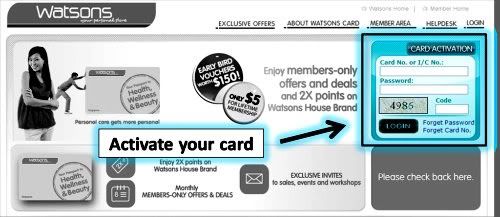 Log on to
http://vip.watsons.com.sg/web/Home.do
Fill in the form on the left on the website. Your card no. and password can be found at the back of your card
:D

After keying in the detail, you will receive a SMS code to complete the activation! Presto! You just earned 20 BONUS points! (which means the card only cost 4 bucks now! YAY!) That's all! Off to get my hair products and earn points! :D