Before I start writing, just wanna ask you all this question.
How much is your monthly handphone bill?
Here is mine:
Some of you might go like "
O.O WHAT?! 172 bucks?!
"
Sadly to say Yes, and sms contributes the most of my bill!
BUT THEN
, I signed up for the Singtel Mobile Youth Plan! Singtel has created benefits specially for the needs of Students and NSFs, exclusive benefits such as…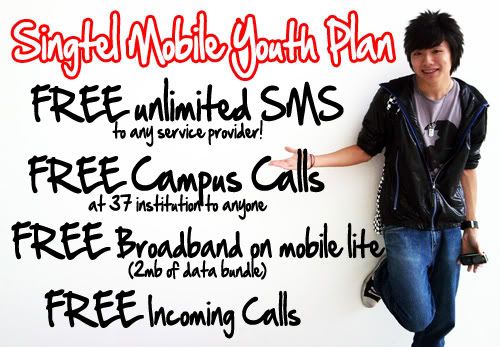 Now I can safely say that…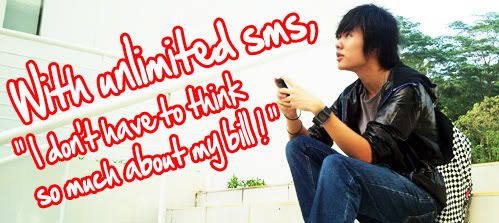 Now that I have unlimited sms,
I can sms all I want!
Even secretly sms in class when attending boring lectures! Sms is like the most important function that everyone need! Psst:
I sent like 3000+ sms for this month already!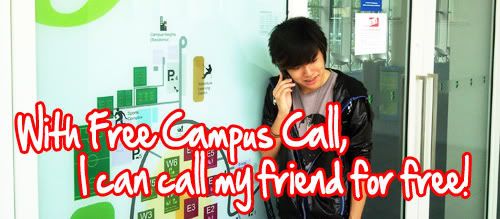 On top of the bundled talk time minutes, tertiary students studying at NTU, NUS, SMU, SIM, any polytechnic, ITE or Junior College will also enjoy free calls from their schools with
FREE Campus Calls
to anyone.
Rinn

: "Andy, you like that call me hor and chat, your bill won't increase meh? I got free incoming call, so I nevermind, but you leh? "



Me

: "I'm calling from my school, and with FREE Campus call, I can chat with you for FREE! So don't worry, You got Free incoming, I got FREE campus call!"



Rinn

: "Wah, I also want!"
Now I can call up and chat with my friend anytime without thinking too much about my bill! I will most likely be serving NS next year, and I'm glad I will enjoy the exclusive
FREE Camp Calls
from selected camps! Yippee!
Not only that, for new
Singtel Mobile Youth Plans
subscribers, they will get to enjoy a vast range of value-added services that bundled with the plans such as:

The total worth value of the above value-added services is about $195.

For more information about Singtel Mobile Youth Plans, visit:

Now here's a chance to win fabulous prizes for you and your friend when you recommend your friend to sign up for a new Singtel Mobile Youth Plan!
The prizes come in quantity of two!
What's more, if you recommend more friends to sign up for Singtel Mobile Youth Plans, you will get more chances to win that dream prizes! Wah,
Macbook
leh!!!!
Psst, if the friend you referred has successfully signed up for Youth Plan, you will get to pocket
$20 shopping voucher
and your friend will get
$50 off
on any 3G/3.5G handset. So the more friends you recommend, the more vouchers you can get!!
Promotion Period:
1Aug to 30Aug.
What's more, you can live life online with Singtel Broadband on Mobile Youth Plan!

Every time I want to check my email or twitter, I have to look for somewhere with
WIFI
and there are times when I totally cannot find place with
WIFI
, BUT with this plan, I can stay connected anywhere!
With so many benefits for students and NSFs, it's a bit too hard to resist right? I can now say Bye bye to my 100+ bucks bill!
Hello, $25.68
:D