Since i have every Wednesday to myself now,
Shawn
& I decided to return the Canon Camera and printer to their head office located at Keppel Bay Tower and after that head down to
Nuff
nang
to collect the
HTC magic
that I won
:D
Like any typical
Nuff
nang-er
who blog about going to the office, they will take a photo of the map at
Farrer park MRT
to show where the office is located: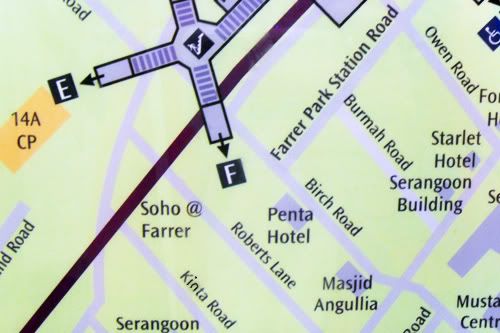 Nuffnang is located at
33 Kinta Road
, which is a
5 mins
walk from Farrer park MRT station, Get out from Exit E and cross the road, walk a little, then you will see:
Yup, you will see the Kinta Road sign. By the way, I've been there before, this is just for those googling - "
How to get to Nuffnang Office
" :D
Photo credit to
hpility.blogspot.com
I forgot to take photo of the office/with the people!
Remember i returned my Canon camera?
Now i'm left with one 5 megapixel Sony camera
:(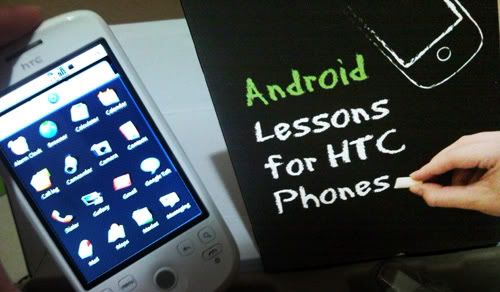 My new HTC magic!
I realised it doesn't come with a user manual!
I tried to use it for 10 mins, and I realised the
Android Operating System
is quite different from the other phones, so i switched back to my Omnia and twittered:
Ha! Shawn you cannot run le! I got evidence!
After collecting, we went to the "
other
" office to eat, and chat for almost 1 hour then we left, before leaving, Shawn wanted to see the acclaimed
Rooftop pool
!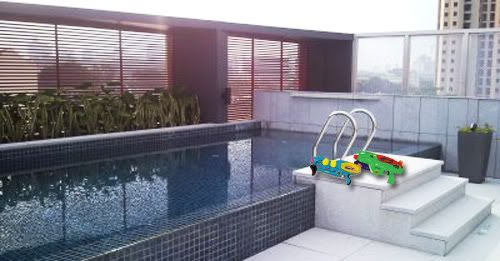 There is really a pool on the rooftop!
Did you spot something?
The Water guns lying at the stairs of the pool! We took one each to play for fun, but it started to get more violent!
We started filling the gun with the pool water!
ANdyStorm VS SimplyShawn!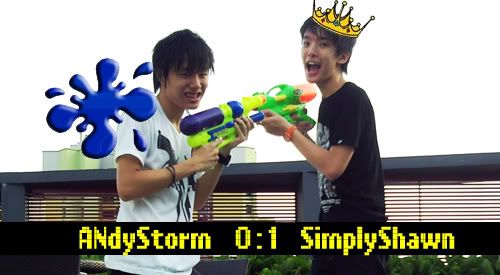 " As ANdyStorm was posing for the camera to get the ultimate Chio shot, SimplyShawn took a careful aim at ANdyStorm, and pressed the trigger! "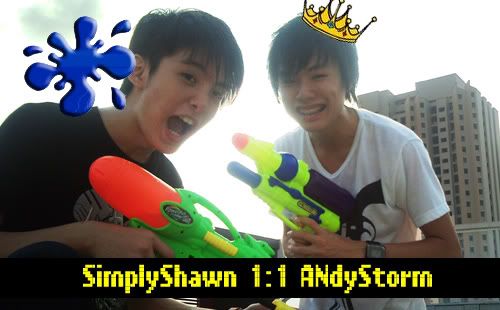 " ANdyStorm wanted revenge and decided to trick SimplyShawn to take a photo so he can twit-pic it. SimplyShawn fell for the trick and kena shot! "
" SimplyShawn couldn't believe he got tricked and snatched ANdyStorm's gun when he was distracted! Now see who's the winner! Die ANdy Die~ "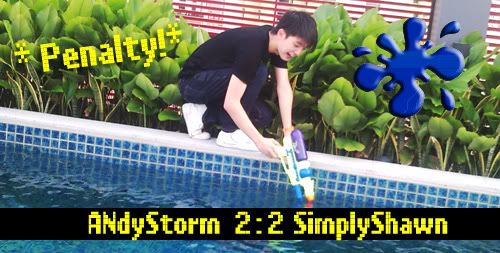 " SimplyShawn then threw ANdyStorm's Water gun into the pool! Referee blew the whistle, and shouted "

Foul!

" and made SimplyShawn climbed over to retrieve the gun! One penalty point awarded to ANdyStorm! "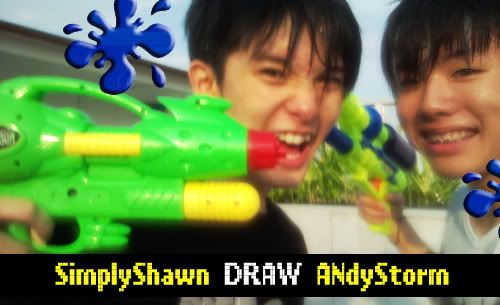 "After about 30 mins of close fight, Both SimplyShawn and ANdyStorm was super soaked from head to toe! (

Can see from the photo rgt!

) The referee was finding it difficult to decide the winner, so who is the ultimate winner? "
ANdyStorm:

" I shall act modest and not reveal the winner.
I shall just let the above photo speaks for itself" :D *

beam

*