Wanna win walkabout pass to the Final Race of the 2009 Formula 1 Singtel Singapore Grand Prix? Wanna win SGD $1000? Wanna win an Awesome all expense paid 5days trip to the BMW world in Munich, Germany?
But first ask yourself this question.
ARE YOU THE CREATORS OF TOMORROW?
If your answers to all the above questions are
YES
, this is the contest for you! This campaign is brought to you by the "
Creators of Tomorrow
" in collaboration with BMW Group Asia. Creators of tomorrow is basically a group of volunteers interested in nurturing the future generations of engineers in Singapore.
Let's go behind the scenes at Google and learn about the Create2010 challenge:
The challenge to this contest is that you have to apply science and technology to a problem you have identified and create something that the world has never seen. But first, form a team of 2! 2 heads are better than 1, or 3 is also a good number (: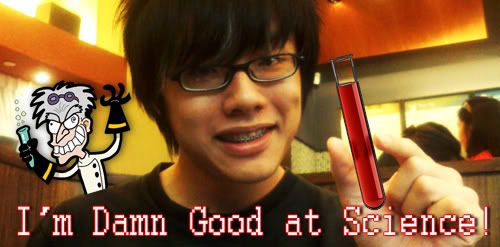 #1
: Get someone good/ has strong interest in Science.
#2
: Get another person that knows everything about technology.
Ta-dah!
You just form yourself a Great team!
After which, Register your team and submit your entries! (
Closes on 16 October 2009
) Phase 2 of the Contest is for the grand prize to the BMW World in Munich, Germany. Entry for phase 2 is via the online submission form at
THIS WEBSITE
.
On 23 October 2009, 10 shortlisted entries will be posted online at
THIS LINK
and 5 teams will be selected as finalists (
2 will be selected through public voting, 3 will be selected by the judging panel
) All 5 finalist teams will receive SGD $1000!
Not only that, the 5 teams will be given the chance to receive an
additional S$1,000
to develop a feasibility plan to bring their idea to life and compete for the grand prize. They will have exactly 1 month to bring their ideas to life!
Of course, the extra $1000 is not for anyhow spend de, The S$1000 will be given to the school and students need to get the reimbursement from the teacher-in- charge. Proof of purchase must be presented to qualify (:
Sounds exciting enough?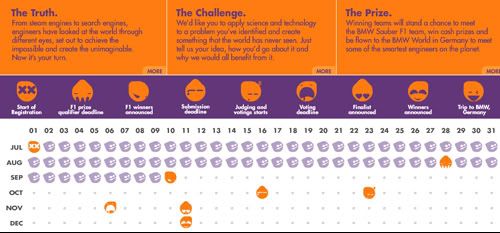 Checkout their website @
http://www.create2010.com/#/Home
to find out more! They have a flash calendar to mark the important dates of this contest!
Wait! Have I mentioned anything about the GRAND prize?
The Grand Prize for the winning team is a
FIVE day trip
to visit the BMW World in Munich, Germany. Airfare (ECONOMY) and lodging will be provided for each team member and the teacher! They will get to visit the BMW Welt, BMW Classic Cars Museum and the BMW Manufacturing plant in Munich!
WAH WAH WAH!
What are you waiting for? Registration/submission of entries closes on 16 October 2009! Head down to
http://www.create2010.com/#/Home
to find out more.
Read the
FAQ
to clarify your enquiries. Good luck! :D