My first step to becoming a Food blogger!
Muahahahaha!
I always love Japanese food, and had a craving for Sakae Sushi so I sms
Claire
to ask her whether she wants to go for the buffet with me.
Guess what's the first thing she asked?
The price -.-
But after I told her it's about
$16+
after GST and Service charge, She agreed. It's not that expensive what right! 16 bucks for a buffet sounds reasonable to me.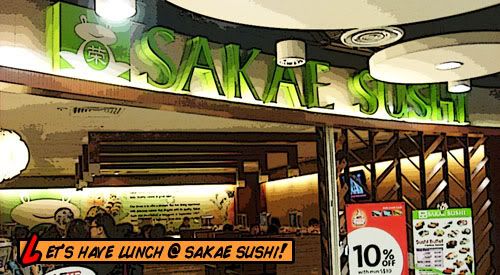 So we headed to the
Sakae Sushi
at Century Square!

Sushi Buffet for Youths is
$13.99 ++
(about $16.30)
There is quite a lot of things we can order for the buffet leh. We can like order most of the Sushi, Hand rolls, Chawanmushi, Miso Soup, Fried items and many more leh!
Instead of having to call the waiter over to take over orders, we can use the interactive menu to order.
Save time!
(Ya ya ya, i know most of you all had Sakae Sushi before... Yes... I understand. Just take it that I'm blogging for those who never had Sakae before alright?)

I love to take food from the conveyor belt! So Japanese-ish
(:
This is what you get when you have Bloggers eating with you. Must take photo before eating! That's why you get to read this post full of photos ma!
Can you believe all the photos above are taken by my "
Wonderful
" 5 megapixel camera that never fails to produce a blur photo? Photoshop works wonder
(:
I love to eat
Chawanmushi
! (Steamed Egg)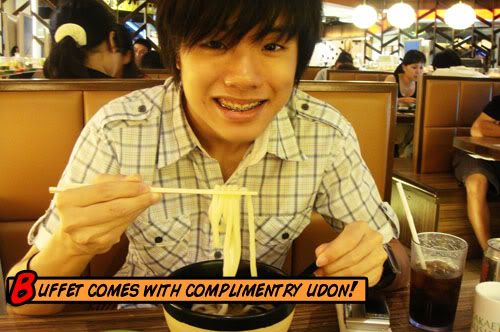 The buffet comes with
Complimentary Udon
too!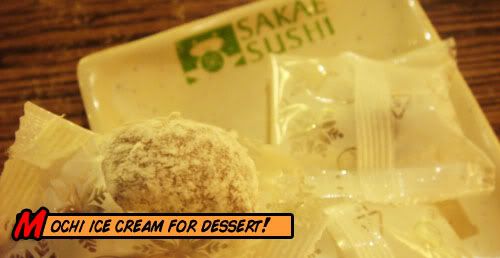 and Complimentary
Mochi ice cream
for desserts!
Ya, that's my lousy camera.
The
Magnificent
ANdyStorm and
Mundane
ClaireChing! (She's SO gonna kill me!)

Total bill was $37.41!
(We ordered drinks too!)
I think it was quite worth it. I always love to eat buffet because we just pay one price and we can order like unlimited amount of food!
It's damn funny to see how people try to stuff themselves with as much food as possible to the extend of almost vomiting (
can see from their face!
)
OR when they order order order, then when all the food come, they realised it's too much. Then they stress!!! "
OMG, how are we gonna finish all these food!
"
This post is brought to you by ANdyStorm, the Food Blogger!
Muahahaha!
P.s:
I just read through the post and realised it's like an advertorial. This is not hor!