Yes...
I'm like always the last to blog about events (
again!
) I think everyone that went to the
Flash mob
or the
River festival
would have blog about it ages ago!
Here I'm trying hard to recap what happen that day, choose the photos, arrange them in sequence.
Just because I want to proudly blog that I attended...
Oh ya, before that let me tell you what this Flashmob is about!
Flashmob
is a big bunch of people gathering at a particular location, walk around like usual, and suddenly at a planned timing, do some crazy things together.
This time, It's the Silent dance *
Shhh...
* What we are going to do is... Dance @ Orchard road listening to our Mp3! Wearing Pajamas!
Met up with Shawn and headed to the empty space beside Heeren
(:
There were quite a lot of people queuing up for registration already, instead of queuing up, we went to the front to look for other bloggers we know
(:
Only to be stopped by
Jayden
&
Fabian
for a interview!
Yes, we are already wearing our "
Pajamas
" :/
After registration and chit chatting, we were divided into groups, and I know most of the people in my group! There is Peggy, Shuana, Sophia, Roxanne, Esther, Shawn, June, Valerie and others!
I think we are the most fun group among all
(:
After dividing us into groups,
Ming
gave an opening speech :D
After the briefing, My team led by Huiwen was heading to Heeren, While waiting, we continue to take photos. Recognize the dog in the above photo? It's
Pumpkin
!
Valerie
say I'm scared to hold the dog!
I'm not lor!
It's because I'm lazy to put down my things. Btw, Pumpkin is super duper small. Didn't expect it to be so small.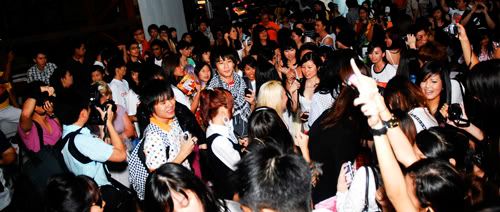 Soon everyone was crowding outside Heeren, waiting for the cue to start stripping! But everything happened too fast, the next thing we know...

Actors and Actresses dressed in real PJs start dancing silently!
After the whole thing ended, we went back to the gathering point and...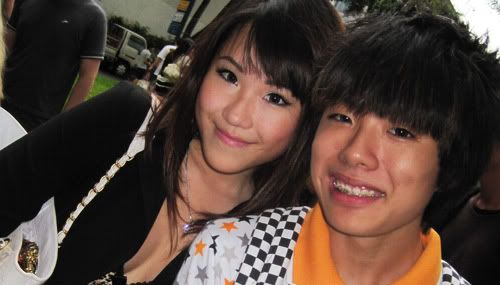 Continue taking photos! With
Jessica
aka Underage Girl (:
Jayden
- Official Videographer! Great job on the video!
Group photo.
It was drizzling, which explains why I'm carrying a umbrella.
Shawn, Alton, Sophia and me
actin'
cute
:D
Not forgetting to collect our Goody bags which contain the key to enter Arena!
Typical photo of Me, Shawn and Boss Ming
:D
Nang this.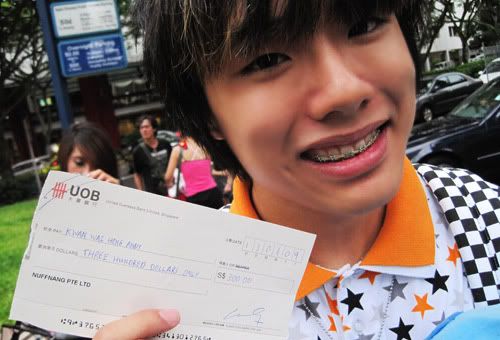 Oh ya! I won 2nd prize for my
fashion post
! 300 bucks :D
(

btw, the photo above is highly photoshop-ed! Chio sia~

)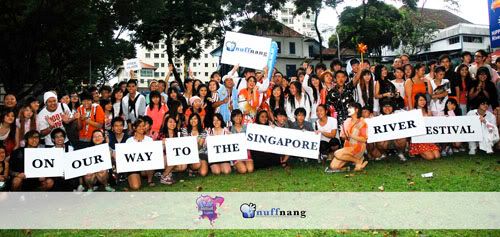 Ending with a photo with everyone that attended the event!
On our way to the Singapore River Festival!