It's like Day 2 of the Malacca trip! *
Did I hear some cheers?
* From the banner above, you can somehow agar agar what Day 2 is all about right?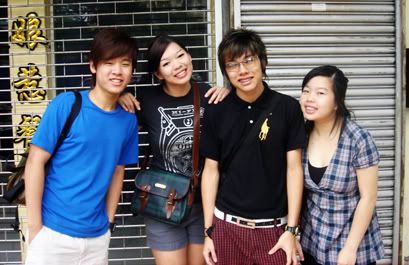 Here is a group photo to kick start the day! We have already decide the night before that we will wake up at
9am
! Because Day 2 is gonna be a long long day! (
Anyway, we were not according to schedule AGAIN.
) Oh wells.
Like any other morning, We need to have breakfast so that we will feel energized. (
Note: At least 3 in the group photo seldom have breakfast. Get what I mean?
) We walked all the way to the other end of Dataran Palawan to have breakfast! Guess what did we had?
Hint:
Fast food... Starts with the letter M...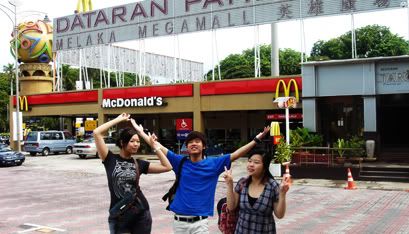 Macdonalds!
So typical.
Even in Singapore.
Without further ado, we shall order our food! There is like so many people queuing up for Mac also...
So what shall we eat...
The menu is kinda the same as Singapore.
I ordered an Egg Macmuffin Meal, with ice milo
(:
The rest ordered other sets like Big breakfast etc. It cost like
RM9 per meal
, which is about
3.75 Sing dollars
!
Good news:
It's cheaper than Singapore!
Bad news:
There is a difference in taste. Still think the ones in Singapore is nicer
:D

At least Singapore got standard

:|
After having breakfast, we are ready to embark on our journey to Afamosa! And in order to get there, we hailed a cab, something we didn't expect is that...
THE WHOLE JOURNEY TOOK 1 FREAKIN' hour!
*
faints
*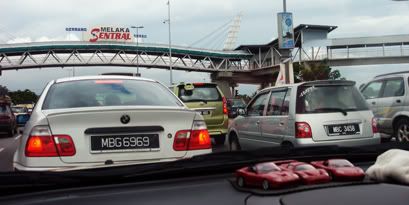 I simply hate taking taxi because I have Motion Sickness! (
Ha!Now you all know one more thing about me
:D) Normally I will feel like vomiting after awhile on the taxi, but nothing seemed to happen to me throughout the one hour. So glad. The whole taxi ride costs
RM60
, which is about 25 bucks (:
Didn't expect Afamosa to be Sooooo far away.
The whole journey is like taking a cab (
or should i say MRT...
) from Pasir Ris to Woodlands, then from Woodlands back to Pasir Ris (
and maybe back to woodlands again!
)
What I like about M'sia taxis is that there is no Meter! You get to bargain the cab fare till both you and the driver is satisfied with the amount.
Why can't Singapore be like this? "

Uncle, 15 bucks, Pasir Ris to woodlands, set ar?

Har? Okay lah, $14.50

"
FINALLY
after one whole hour.I repeat,
ONE WHOLE HOUR
. We reached our destination. Some info about Afamosa *
Google-ing
* "A'Famosa offers an international championship 27-hole golf course, the highly-acclaimed Animal World Safari,Water World Theme Park, Resort Hotel, Villas blah blah blah..."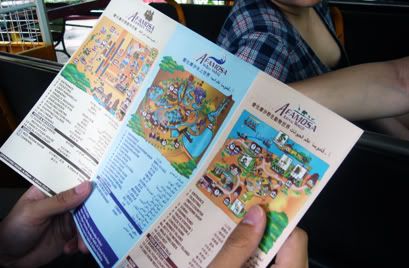 3 parks:
Animal World, Water World and Cowboy town!
Some photos while queuing
(:
Tickets cost
RM73
for each person for entry to Animal World and Water World.
30 Sing dollars
, which is quite reasonable, and each entry tickets come with a set lunch, will talk more about the lunch later
(:
We were given a wrist tag as shown in the above photo, and all we have to do is scan the tag for entry. *
So high tech
*We decided to go for Animal World first
(:
Anyway, who in the right mind would go Water world then Animal world
-___-'''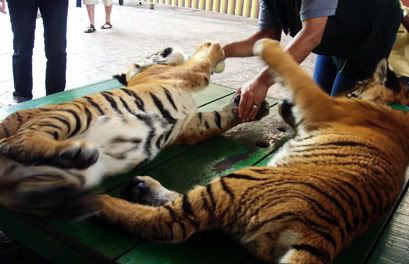 Before we enter the animal world, we get to take photos with tiger cubs
(:
Super cute, but when they grow up not cute le, so fierce.
The condition for keeping the photo?
RM15 (
Which we did not buy
) It's like 4 person then need to buy 4
:(
First stop in Animal World was a ride on this scary looking truck!
It's like a cage, somehow I got an idea of how the ride is going to be like. Must be like those Africa de, whereby the animals get to roam around freely...
Most likely shd be like that...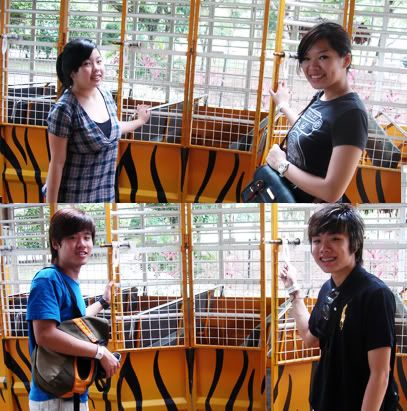 Posing for photos before entering the "
cage
"
(: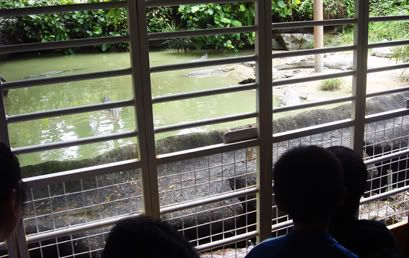 Wahaha, I was right!
(
All thanks to discovery channel!
) Basically we sit in this "
Cage truck
" and we toured the whole zoo
(:
The lions/ tigers/ deers/ whatever animal are not really confine to their enclosure, they get to roam around freely in their area hence the "
cage
", just in case the tigers decided to have us for dinner
:|
Took a lot of photos but lazy to edit and upload, bet you all aren't really interested in the animals right...
The experience on the truck was so cool!
You can never experience that in Singapore lor...
In singapore, Go nearer and you will get eaten by white tigers.
Now on foot, also quite a no. of animals to see but here's a few highlights
(:
Chicken farm!
I didn't know there are so many different types of chicken! (
KFC chicken all looks the same...
) and most of them are ugly *
Roll eyes
* and Weird looking *
Roll eyes till whites
*, the only cute thing in the whole farm are these: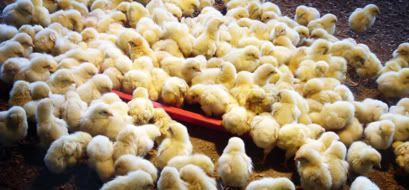 Aww... Aren't they cute?
Why must they grow up and look so ugly, poor things. Anyway, Fact of the day/post:
Chicken is one of the things we eat before they are born, and after they are dead.
Make sense? Poor things, actually I don't really care.
There are also horses/ponies with Bangs!
Super cute.
Elephant riding!
First time in our lives! It was quite scary also. It cost
RM6
per person to ride on the elephant, then we sit on the "
doesn't look safe
" chair and off we go for a round! Even go into the water as seen in the photo below
(:
The official photo taken with their camera.
It cost RM15!
BUT we did not pay for it.
Clever
and
fast-acting
me took a snapshot of the printed version with my camera when the person turned away. With photoshop, anything is possible
(:
Lunch was a packet of
Chicken Rice
and a can of
100 plus
.
After lunch, we went for the highly anticipated
Cowboy show
! Before the show, I somehow have an idea of how the cowboy show will be like those in Australia whereby there will be those
bomb/fire
effects and such...
As expected, live actions and even better!
Real horses was involved!
The show was really nice and exciting although the sound wasn't very good, can't really make out what the actors are saying, Too bad
:(
Next stop:
Monkey island.
Since all the monkeys are situated in an island, we have to take a short boat ride over to the island!
Posing with the life vest (:
Anyway, all the monkeys there are ugly and irritating, if not for the boat ride, I might consider not going to visit them lor.
Hope they stay there forever.
Cannot imagine if they escapes. Eeyer.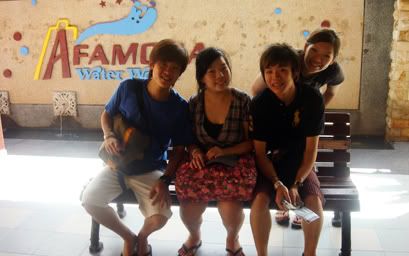 After a whole long afternoon, we decided to leave Animal World.
Wait!
Not to go all the way back to Malacca but to have fun at
Water World
! There is like only a few photos from Water World because simply my camera is not water proof. Even if it is, I will definitely spoil it with all that high action water rides!
Comfirm.
Here's a Kiddy cartoon map
of water world

(:
There is like a
man-made beach
there for sun-tanning, a '
Lazy pool
', a
big big wave pool
with a stage at the front,
Water slides
and many more!
Super fun!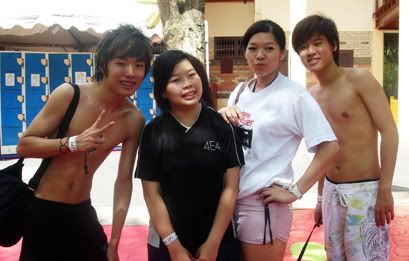 One last photo before we hit the waters!
Something to tell you!
The rides are really scary! Some is like the last ride of your life! I'm not exaggerating! There is this tube ride, when you enter it,
everything just turns dark.
You don't even know the direction it is going to turn, until u see some light, meaning you are reaching the end.
So damn scary :(
*
Shivers
down spine*
Alright, that's all for Water World.
Lastly would be...
Cowboy town.
Not to be confused with the one in Animal World. Anyway, we did not go to cowboy town because, it was kinda late and we would have to pay the entrance fee cos it's not included in the previous package.
Boo boo.
So to get back to Malacca, we called Guna. (
The friendly taxi driver who fetched us from Malacca to Afamosa
) We waited for the taxi for like 45 mins! And guess what we did for that 45 mins of waiting?
Feed the mosquitoes.
You cannot imagine how glad we was when we saw the cab!
Another
1 WHOLE hour
of journey back to Malacca, we were super hungry. So we decided to brave the night and have dinner at Dataran Palawan. (
The shopping mall opposite our hotel, i bet you all forgot what is Dataran Palawan lor!
)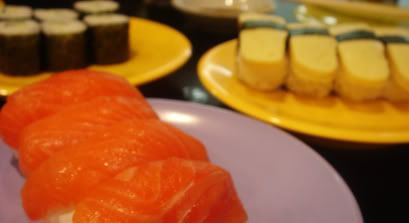 We had Japanese for Dinner
(: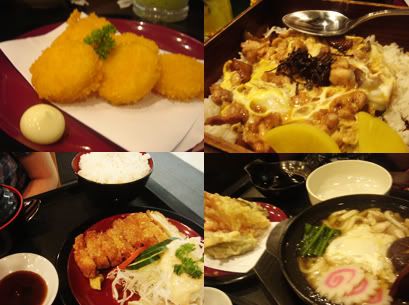 I love Japanese food!
We were like SUPER duper ultra hungry can! Ordered a main course each and ate sushi(s). Total bill was average
RM20 per person
, quite reasonable too. And we were super full after the meal!
Went back to the hotel with a cup of fruits and a slice of cake from Secret recipe each
(:
Lucky we never get rob.


Still paranoid about those robbers and thieves coming out at night.
That's all for Day 2!
Then next day we are going...
[
To be continued.
]
DAY 1 | DAY 2 | DAY 3 | DAY 4 | DAY 5